There are a load of amazing black anime characters in a wide variety of different anime. Sometimes they are a supporting character, sometimes they are a main character. But either way we love them all!
Table of Contents [CLICK HERE TO OPEN]
Watch Anime Now: Crunchyroll | Funimation | Hulu | Netflix
Black Anime Characters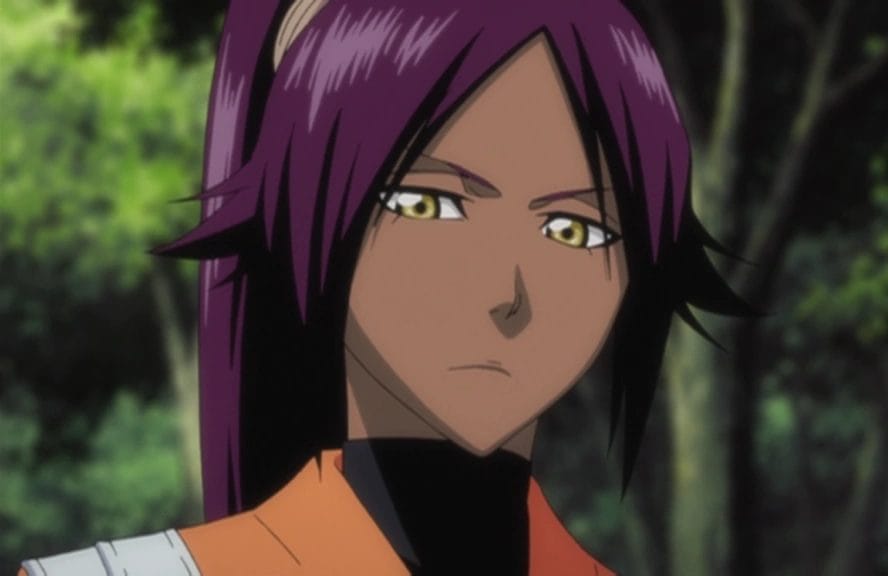 Yoruichi Shihōin
Bleach
Yoruichi is a former captain and former commander. Having abandoned her command of both positions, she works with Kisuke Urahara and Tessai Tsukabishi, based in the Urahara Shop out in the Human World. She possesses the unique ability to shape-shift into a black cat at will.
Yoruichi is intelligent and witty, holding an intimate knowledge of Soul Society and its workings. Although of noble birth, she acts differently from most other nobles. Whilst she can be calm and mature, she is often quite laid-back and playful.
Carole Stanley
Carole And Tuesday
While pursing her dream of becoming a musician, Carol is an outgoing orphaned girl trying to survive in Alba City by working multiple (short-lived) part-time jobs. She's unable to hold down these jobs due to her straightforward way of dealing with antagonistic people and delicate situations.
Carole is overall nice, inviting and patient, which largely contributed to her bonding with Tuesday. Carole doesn't seem to have a lot of friends, if any outside of Tuesday.
Atsuko Jackson
Michiko & Hatchin
Atsuko is an Afro-Diamandran policewoman who lived in the same orphanage as Michiko Malandro, who seems to have a score to settle with her. She is an outlaw vigilante and was the one responsible for Michiko's arrest twelve years before the main plot.
Atsuko is very strong willed, which can come off as her being very cold. She has a good conscience, which often is the reason for Michiko's constant police evasions. Atsuko seems to have very mixed feelings for Michiko.
Afro Samurai
Afro Samurai
An incredible swordsman whose father was killed in front of his own eyes, Afro grew up with a mind flustered with revenge. He became into a cold-blooded killer, willing to kill anyone so he could become number one.
Afro is a fairly quiet, stern, and serious person. He rarely ever smiles or laughs. So, Afro often gets annoyed by Ninja Ninja who, unlike him, is talkative and humorous.
Kilik Rung
Soul Eater
Considered one of the top three student fighters in Death Weapon Meister Academy, Kilik is partnered with twin weapons – Fire and Thunder. He is is a popular EAT Class Meister. Kilik posses a flexible wavelength and is very skilled in hand-to-hand comabt.
Kilik is hot blooded and direct, having a fiery soul. But he's compassionate enough to put his own life on the line for his friends.
Canary
Hunter X Hunter
Canary is an apprentice butler of the Zoldyck Family. Anyone attempting to pass her post on the estate will be expelled via force. She is an expert fighter, able to defeat a Hunter and 100 henchmen in mere minutes without breaking a sweat. Her weapon is a rod that she always carries with her.
Canary is very loyal to the Zoldyck Family. She initially appears as a ruthless guardian who does not hesitate to attack trespassers. But she is not as heartless as she pretends to be. Her loyalty to Killua has caused her to disobey her orders to different degrees on more than one occasion.
Michiko Malandro
Michiko & Hatchin
She is an orphan turned criminal and the former lover of Hiroshi Morenos. She escapes prison and rescues Hiroshi's daughter, Hana. So, together, they search for Hiroshi.
A wild child and free spirit, Michiko constantly needs to be the center of attention. She is a loud, jealous and competitive woman who often exhibits childish behavior.

Dutch
Black Lagoon
Dutch is the leader of the Lagoon Trading Company and a former United States Marine Corps patrol boat crewman in Black Lagoon. Shortly before end of the Vietnam War, Dutch went AWOL, escaped to Thailand and started working as a mercenary. He then founded the Lagoon Company.
Usually, Dutch stays away from the fighting and focuses more on giving orders and negotiating contracts with the clients. However, if the situation calls for it, he is more than capable of fighting.
Killer B
Naruto Shippuden
B is a shinobi from Kumogakure. He is the most recent jinchūriki of the Eight-Tails, Gyūki. However, unlike his predecessors, he was able to befriend it and hone its power for Kumo's benefit. Despite being responsible for the village's protection, B aspires to be the world's greatest rapper. He is the brother of the Fourth Raikage A.
Killer B is proud, overconfident, cocky and stubborn. He demands respect from others and writes down rhymes in the middle of battles or important meetings.
Bob Makihara
Tenjou Tenge
Bob is a member of the Juken club who is the knuckle bombs and the boyfriend of Chiaki Konoike. He uses the Brazilian style of martial arts, Capoeira. It is a dance-based martial arts and the moves resemble break-dancing. As well as this, Bob has displayed some signs of above average or even superhuman strength.
Bob Makihara is a young man from South Africa. Although very little is actually known about his past. Bob seems to enjoy fighting, and is a very skilled fighter. However, he often seems to doubt his abilities.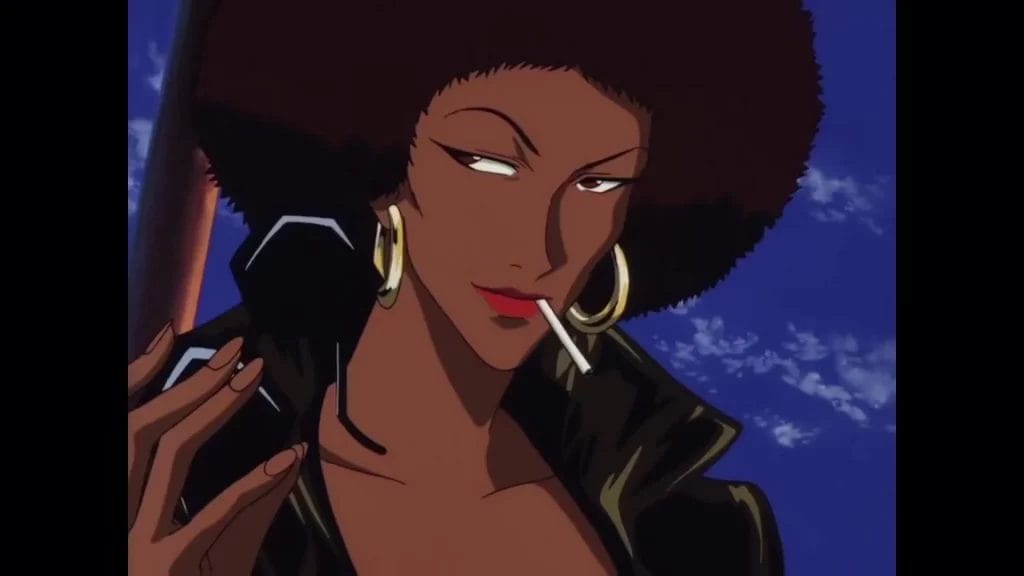 Coffee
Cowboy Bebop
Coffee was a bounty hunter. On Io, Coffee pursed a bounty head, Domino Walker. However as she was looking for him, Ed and Ein climbed into the trunk of her car. Which got her taken away to the Io Police Department.
Coffee was born on Earth and makes her appearance in Mushroom Samba. Her weapon of choice is a grenade launcher.

Andrew Gilbert Mills
Sword Art Online
Andrew is known as Agil in Sword Art Online (SAO), ALfheim Online (ALO), and Project Alicization. He was one of the 10,000 players who were trapped in SAO, where he was a veteran axe-wielder and a merchant who owned a shop in Algade.
Agil is friendly, very helpful and always looks out for others. He is someone to rely on and can be a leader on the battlefield. Despite acting like he only cares about money, he actually uses his money to help mid-level players level up.
Kaname Tōsen
Bleach
Kaname was the captain of the 9th Division of the Gotei 13 until he betrayed Soul Society. This put him at odds with his former best friend Sajin Komamura, as well as his former lieutenant in the 9th Division, Shūhei Hisagi.
Tōsen's creed in life is to "take the path with the least bloodshed." However, he knows that the plan he's following will require the deaths of thousands of innocents and is willing to attack members of his own division.
Nessa
Pokémon: Twilight Wings
Nessa is the Gym Leader of Hulbury's Gym, known officially as Hulbury Stadium. She specializes in Water-type Pokémon. Nessa is pursuing a career as both a model and a Gym Leader.
Despite being known for her calm and collected personality, Nessa has a strong competitive spirit. She is also concerned about juggling her dual careers as a Gym Leader and a model.
Nils Yajima
Gundam Build Fighters
As a Gundam Builder and Operator, Nils employs advanced knowledge and natural skill along with the expert craftsmanship and tuning of his Sengoku Astray in order to win his battles by using tactical decisions.
At first, Nils only cared for science. He was never into Gunpla Battle and would rather just to study Plavsky Particles. However, after a battle, Nils realized that he actually did enjoy Gunpla.
Katara
Avatar: The Last Airbender
Katara is a waterbending master, born in the Southern Water Tribe to Chief Hakoda and his wife Kya. During her childhood, she was the only waterbender living in the Southern Water Tribe. As a teenager, Katara and her brother discovered the young Air Nomad Avatar, Aang, who had been frozen in an iceberg with his bison, Appa, for one hundred years.
Katara had a warm, compassionate, and caring personality. She often acted as the motherly figure to the group and displayed a deep affection for those she travelled with. Katara would also never turn her back on someone in need.
Fire Emblem (Nathan Seymour)
Tiger & Bunny
Fire Emblem has the power to generate and control fire. Their powers allow them to manipulate fire as though it were partially solid. They also have one of the fastest power activations. Fire Emblem is also a highly skilled driver, as they are able to dodge a hail of machine-gun fire while in their car.
Despite their flamboyance and carefree attitude, they were ostracized for their interest in men and femininity. So despite their confidence and freedom currently, their past rejection by their peers and family still haunts them.
Semyon Brezhnev (Simon)
Durarara!!
Semyon Brezhnev is known as just "Simon". He is Russian born to American parents. He is one of the Dollars club and he is also owner of the Russia Sushi bar along with Denis. Despite his tall powerful appearance he is a very friendly character. Despite his gentle mannerisms Simon is actually very strong.
Ninja Ninja
Afro Samurai
Ninja Ninja is a very mysterious character. He often appears to Afro but can also tend to disappear a lot which adds to his mysterious ways. Ninja Ninja is very talkative which can sometimes be an annoyance to Afro. It is widely believed that Ninja Ninja is in fact a figment of Afro's imagination.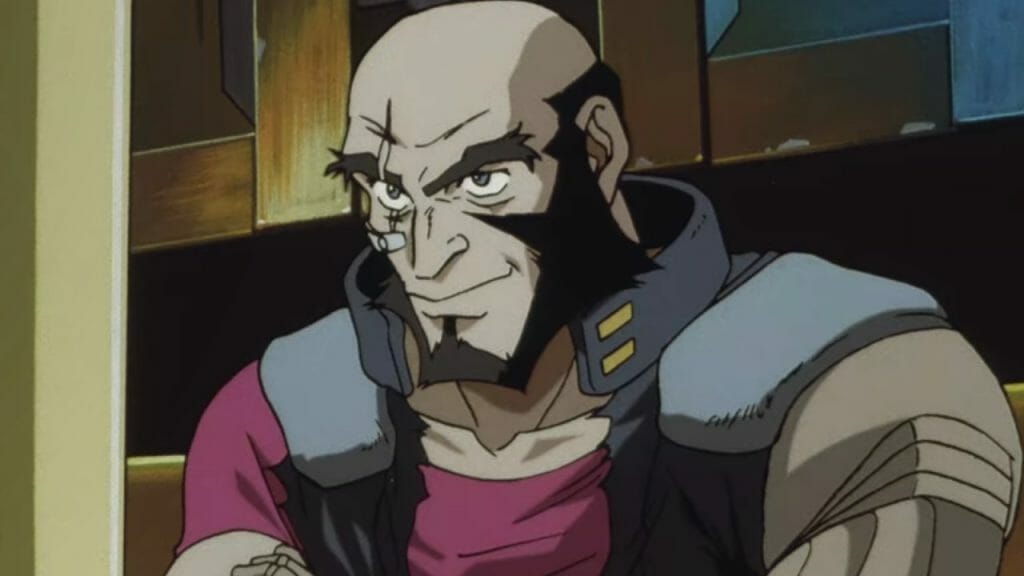 Jet Black
Cowboy Bebop
Jet Black is an ISSP Officer and bounty hunter. As he is one of the older characters in Cowboy Bebop he usually comes across as one the more wise and knowledgeable characters. He usually has plenty of advice to give out to his companions.
Sid Barret
Soul Eater
Sid Barret was once a man but he when died he was transformed into zombie. Upon his transformation into a zombie his physical appearance changed but he did keep his hair and the same powerful build.
Sid worked as a teacher at the Death Weapon Meister Academy. Although as a teacher he was strict he was also meriful and regarded as being friendly. He kept many of these personality traits after his death and future zombie existance.
Anthy Himemiya
Shoujo Kakumei Utena
Anthy is the secondary protagonist of Shoujo Kakumei Utena and was formerly The Rose Bride.
Anthy is a shy, quiet and mysterious girl. She is considered to have something of a walkover personality but it seems as though this is hiding something deeper and darker.
Karako Koshio
Deadman Wonderland
Karako was working as a nurse before she joined Deadman Wonderland. Once she joined Deadman Wonderland she became known as the feared Game Fowl.
Karako is tough and a resilient fighter with marital arts skills she acquired before her time in Deadman Wonderland. She also retains the qualities she had as a nurse though as she is also compassionate, kind and caring.
Muhammad Avdol
JoJo's Bizarre Adventures
Muhammad is an ally in Stardust Crusaders. He is an Egyptian man and a friend of Joseph Joestar when he is first introduced.
Muhammad is of a large build and others perception of him is important to him. He is a serious, mature, righteous and responsible so it is important to him that others see this, along with his strong sense of duty and loyalty.
Sister Krone
The Promised Neverland
Sister Krone is a supporting character in the animated series The Promised Neverland. Along with Isabella she is responsible for running the Grace Field House Orphanage.
Sister Krone is a villain in the serious. Although she projects herself as a kind, caring, warm and affectionate person to the children inside she is actually smart, cunning and also aggressive. There have been times when she has let her mask slip in front of the children.
Kaz Kaan
Neo Yokio
Kaz Kaan is a demon slayer but he is also an eligible bachelor, a magistocrat and the official Caprese Boy.
Kaz Kaan is polite but he can also be outspoken, and can disregard other people's feelings. He is initially quite selfish but he does show an occasional caring side which comes out more as the series develops.
Darui
Naruto Shippuden
Darui is the right-hand-man of the Fourth Raikage and he himself is a shinobi of Kumogakure.
Darui is an easy going character with a laid back attitude. Despite his way of speaking and demeanor which may come across as lazy Darui is not lazy at all. He is also incredibly loyal to the Fourth Raikage and he will defend verbally as well as physically.

Urd
Oh My Goddess!
Urd is a character from Oh My Goddess, her character is loosely based on the deity from Urðr from Norse mythology. She is one of three Norns and she represents the past,
Urd is very impulsive which tends to lead her into trouble. She also tends to tell a lot of lies but she is actually filled with self-doubt, specifically because of her half-goddess/half demon heritage but she does manage to confront her self doubts.

Karui
Naruto Shippuden
Karui is a member of Team Samui and is a kunoichi from Kumogakure.
Personality wise Karui is impulsive, outspoken, stubborn, and combative. She also has violent tendencies and she once took her rage out on Naruto Uzumaki, although she did regret it later.
Philly The Kid
Canon Busters
Philly The Kid is a criminal who is immortal and often finds himself on the run from bounty hunters, loan sharks and other various assassins.
Philly The Kid is uncaring, manipulative, loud and arrogant. He is also argumentative and vulgar. Philly The Kid is not one of the good guys on this list!
James Ironside
Blood Plus
James Ironside was Diva's sixth and last Chevalier and was once her favorite. He was the leader of the Corpse Corps.
James has a very stoic character, he is very serious and lacks a sense of humor. But he is very loyal as well as being ambitious and full of determination.
Kirche von Zerbst
The Familiar Of Zero
Kirche von Zerbst is a student at Tristain Academy of Magic and her speciality is fire magic.
Kirche is a caring character but her flirtatious side is more apparent. She uses her charms to seduce men by any means. But she also has a much softer side.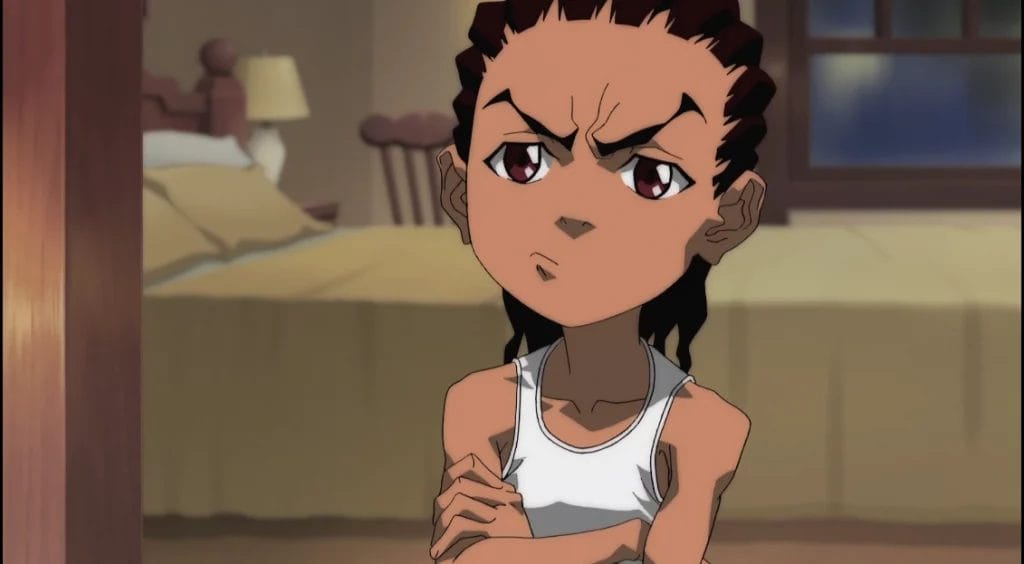 Riley Freeman
The Boondocks
Riley is one the two main antagonists in The Boondocks (alongside his older brother Huey). Despite his young age he tries to emulate the gangsta lifestyle which has earned him the nickname "Riley Escobar", amongst others.
Riley is intelligent and resourceful but at the same time he is also highly impressionable.
Ken Takagi
My Hero Academia
Ken Takagi (also known as Lock Hero: Rock Lock) is a Pro Hero.
Ken can be very pragmatic and to the point when he is dealing with people but there isn't any malice in his words. He can also be judgmental and tend to doubt others abilities but he has shown that he is willing to be proven wrong.
Satoshi Batista
Michiko & Hatchin
Satoshi "Daddy" Batista is Hiroshi's childhood friend. Hiroshi once saved his life and Satoshi later took control of the Monstro Preto gang.
Satoshi is a very cold person, who has no problems hurting people or even murdering them. He is also very hostile and harsh in his ways.
Radical Edward
Cowboy Bebop
Radical Edward was born as Françoise Appledelhi but she was a child genius hacker which earned her the nickname "Radical Edward".
She is a very eccentric character, she is very childlike and easy-going but at the same time she is resourceful, super intelligent. She prefers the company of animals to humans.
Mila Rose
Bleach
Mila Rose was previously an Arrancar in the Sōsuke Aizen's army. But she is now aligned with Muerte Guerrero and his arrancar army.
Mila Rose is a rational character but at the same time she can also be easily angered by insults directed at her. When fighting she brings her sadistic tendencies to the fore.
Claudia LaSelle
Super Dimension Fortress Macross
Claudia LaSelle is a bridge officer on board the SDF-1 Macross. Her best friend is Misa Hayase and her boyfriend is Roy Focker.
Claudia is a very friendly character and she is always on hand with some advice, especially when it comes to Misa and feelings for Hikaru Ichijou.
Bear Walken
Gun Grave
Having been friends for a very long time Bear Walken is a high ranking hitman in Big Daddy's Millenion organization. He leads his own team of assassins.
Bear is a very calm and collected character with a strong sense of loyalty. He becomes Brandon's mentor and takes him under his wing to train him. The Millenion and Big Daddy mean a lot to Bear but his daughter Sherry is the most important thing in his life.
Jackie Tristan
Bleach
Jackie Tristan is a former member of the Xcution organization and she used to possess Fullbring powers.
Jackie is a quiet character, almost to the point of saying nothing. She actively resents her powers but is willing to sacrifice everything if it means saving someone else.
Frequently Asked Questions
Is there any Black anime characters?
Yes, there are some Black anime characters, whilst they are also underrepresented. Here are some examples of Black anime characters:
Yoruichi Shihōin (Bleach)
Carole Stanley (Carole And Tuesday)
Atsuko Jackson (Michiko & Hatchin)
Afro Samurai (Afro Samurai)
Kilik Rung (Soul Eater)
Coffee (Cowboy Bebop)
Michiko Malandro (Michiko & Hatchin)
Andrew Gilbert Mills (Sword Art Online)
Killer B (Naruto Shippuden)
Kaname Tōsen (Bleach)
Who is the best Black anime character
The following are our picks for the best Black anime characters:
Yoruichi Shihōin (Bleach)
Carole Stanley (Carole And Tuesday)
Atsuko Jackson (Michiko & Hatchin)
Afro Samurai (Afro Samurai)
Kilik Rung (Soul Eater)
Canary (Hunter X Hunter)
Michiko Malandro (Michiko & Hatchin)
Dutch (Black Lagoon)
Killer B (Naruto Shippuden)
Bob Makihara (Tenjou Tenge)
What did you think of these black characters from anime? Let us know!