Full of epic adventures and deadly battles, it's no wonder why fantasy is such a popular genre. And whilst there are so many around, we managed to narrow it down to our top 14 favorite fantasy anime! With amazing characters and stories that excite us, these really are the best that you really need to watch. So, if you're ready for vampires, demons, ghouls, and more check out the most fantastic fantasy anime!
Castlevania (2017-2021)
Trevor Belmont, the last surviving member of his family, is on a quest to save Europe from Dracula's plan for human extinction. Along the way, he meets the son of Dracula, Alucard, who rejects his father's ideology, and Cipher, a powerful witch from Wallachia, who aids him in his hunt. But Dracula has more problems than Trevor and his team: a beautiful vampire queen from Styria, Carmilla, who wants to take away his power.
Where to watch:
Attack on Titan (2013-)
Centuries ago, humanity was forced to retreat behind 50-meter tall walls for protection from titans, giant humanoid creatures that prey on humans. Then suddenly a titan appears that stands 60-meters tall and with one kick, brings the years of safety to an end. With his mother dead and father missing, Eren swears to get revenge and slaughter every titan. Eren joins the Military with his friends Armin and Mikasa to fight the titans and take back their home. But when strange things start happening, the Military soon realizes the enemy may be closer than they think.
Where to watch:
Fullmetal Alchemist: Brotherhood (2009-2012)
After their single mother died of a lingering illness, brothers Edward and Alphonse Elric, traveled the world in order to learn more about alchemy to raise their mother from the dead. But it's impossible to do correctly and the transmutation leaves Al without a body and Ed without his left leg and his right arm, which he gave up to save his brother. With prosthetics made for Ed and Al's soul in a suit of amour, they burn down their home and become State Alchemists in an attempt to find the Philosopher's Stone and regain their full bodies back.
Where to watch:
Jujustu Kaisen (2020-)
Yuji Itadori is a normal high school student and a member of the Occult Research Club. After the death of his grandfather, he is confronted by Megumi Fushiguro, a sorcerer, who informs him that he had recently come into contact with a high-grade curse talisman. Meanwhile, Yuji's friends at the Occult Club unseal a talisman they found at the school, a rotting finger, which attracts Curses to them. Unable to properly protect them and Megumi, Yuji does the only thing he can think of – he swallows the finger.
Where to watch:
Soul Eater (2008-2009)
Death City is home to the famous Death Weapon Meister Academy. Its mission is to raise 'Death Scythes' for the Shinigami to wield against the many evils of their world. These Death Scythes are born from human hybrids who have the ability to transform into Demon Weapons, but only after they have consumed the souls of 99 evil beings and one witch's soul. This follows the story of the Demon Weapon, Soul Eater Evans, and his wielder, Maka Albarn.
Where to watch:
To Your Eternity (2021-)
A mysterious, immortal being known as 'the Orb' – or Fushi – is sent down to Earth. Fushi is able to take the shape of those that leave a strong impression on it, in order to stimulate as it learns what it is to be truly human. The story follows Fushi as it travels, learning about the world and the people living in it.
Where to watch:
Demon Slayer (2019-)
On his way back home after traveling to the village, Tanjiro takes shelter overnight in the house of a man who warns him of flesh-eating demons that lurk in the woods at night. When he returns home, he is met with a horrifying sight. With his younger sister turned into a demon, yet still showing emotions and remnants of her lost humanity, he vows to protect her and becomes a member of the Demon Slayer Corps. He will do whatever it takes to slay demons and protect his sister.
Where to watch: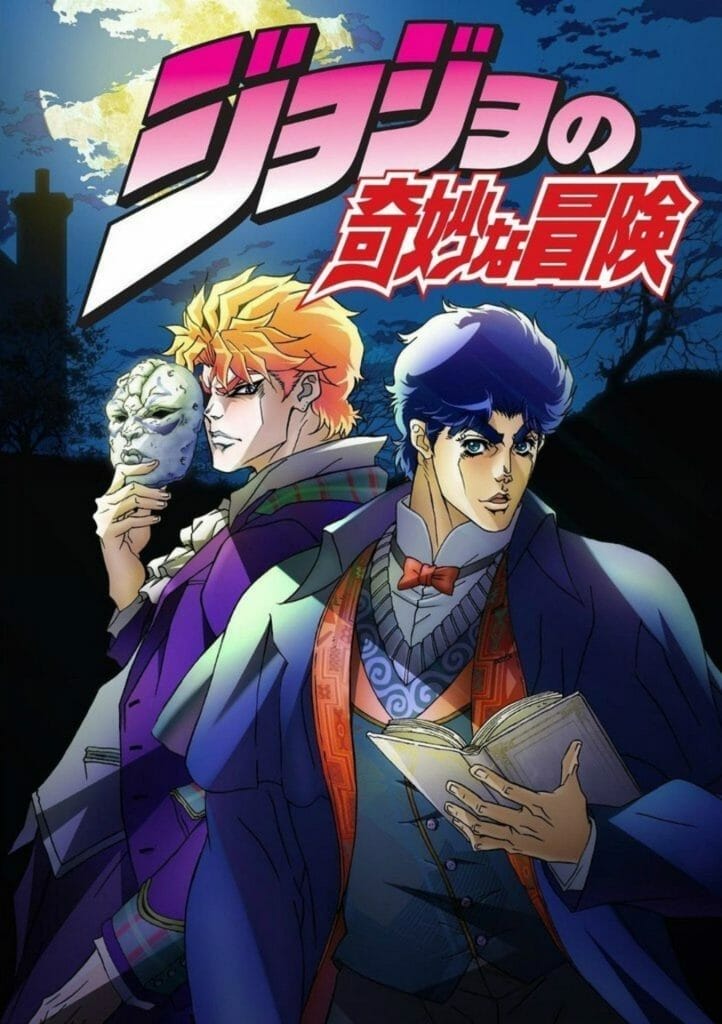 Jojo's Bizarre Adventure (2012-)
This tells the story of the Joestar family, where various members discover that they are destined to take down supernatural forces using their powers. Each member of the Joestar family has their own unique part, where their names can typically be abbreviated to 'JoJo'.
Where to watch:
The Promised Neverland (2019 – 2021)
Three gifted children of an idyllic orphanage accidentally discover the sinister purpose that they were raised for. They know they need to escape, but time is running out as one of them is about to be 'adopted'. How can they come up with a plan in time that lets them all escape with the younger children?
Where to watch: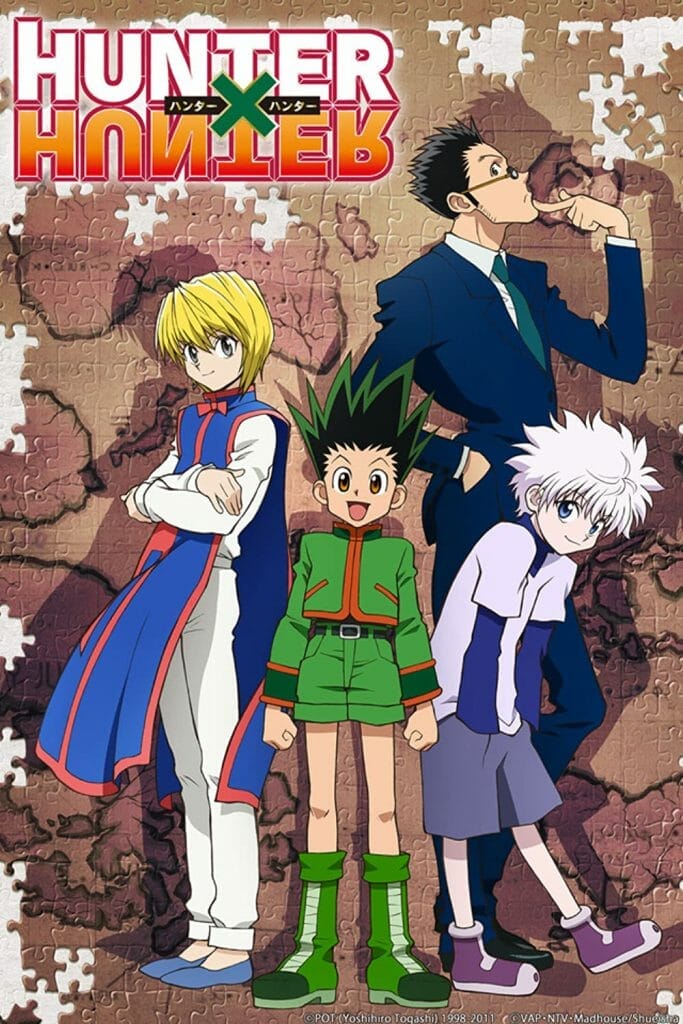 Hunter X Hunter (2011-2014)
Gon has been told his whole life that his parents were dead. But then he discovers that his father was alive and a Hunter – someone who captures criminals and bravely searches for lost treasures in uncharted lands. Gon soon realizes that the path to becoming a Hunter is more difficult than he could ever have imagined.
Where to watch:
Naruto (2002–2007)
After their village is attacked by a nine-tailed fox, the leader of the village sacrifices himself and seals the beast inside of the newborn Naruto. Shunned because of the beast, Naruto struggles to find his place, he desires to become the Hokage of Konohagakure, the new leader of the village. An adventure that leads him not only to new friends but to dangerous enemies.
Where to watch:
Tokyo Ghoul (2014-2015)
Ghouls live among humans, they look like normal people, but they can survive only by eating human flesh. Ken Kaneki is a normal student when a date goes badly and she reveals herself to be a ghoul. Then a freak accident happens, one which he barely survives, and his life changes forever.
Where to watch:
Fate/Zero (2011-2012)
Seven chosen mages and their summoned heroic spirit fight against each other to try to win the Holy Grail – a device that can grant any wish. This anime follows the story of Kiritsugu and his summoned spirit, Saber, as they fight in the cutthroat game of survival.
Where to watch:
The Seven Deadly Sins (2014-)
A small subset of powerful knights that were said to have betrayed their homeland and comrades in an attempt to overthrow the ruler was defeated by the Holy Knights of Britannia, but rumors say that they still exist as the Seven Deadly Sins. But the Holy Knights stages a coup and are now the tyrannical leaders. The third princess of the kingdom, Elizabeth, is in search of the Seven Deadly Sins, to take back her kingdom.
Where to watch:
Which fantasy anime will you be watching next? Let us know!