Are you ready to blast off into a galaxy of adventure? Look no further than these 30 young adult Sci Fi books!
These books will transport you to new worlds, introduce you to extraterrestrial beings, and challenge your imagination in ways you never thought possible. From dystopian societies to futuristic technologies, these 30 young adult sci-fi books are out of this world.
Table of Contents [CLICK HERE TO OPEN]
Young Adult Sci Fi Books
Get ready to power up your reading list and launch into action-packed plots, interstellar romances, and mind-bending concepts that will keep you on the edge of your seat. These books are the perfect escape from reality!
A Wrinkle in Time – Madeleine L'Engle
It was a dark and stormy night; Meg Murry, her small brother Charles Wallace, and her mother had come down to the kitchen for a midnight snack when they were upset by the arrival of a most disturbing stranger.

"Wild nights are my glory," the unearthly stranger told them. "I just got caught in a downdraft and blown off course. Let me sit down for a moment, and then I'll be on my way. Speaking of ways, by the way, there is such a thing as a tesseract."

A tesseract (in case the reader doesn't know) is a wrinkle in time. To tell more would rob the reader of the enjoyment of Miss L'Engle's unusual book. A Wrinkle in Time, winner of the Newbery Medal in 1963, is the story of the adventures in space and time of Meg, Charles Wallace, and Calvin O'Keefe (athlete, student, and one of the most popular boys in high school). They are in search of Meg's father, a scientist who disappeared while engaged in secret work for the government on the tesseract problem.
Binti – Nnedi Okorafor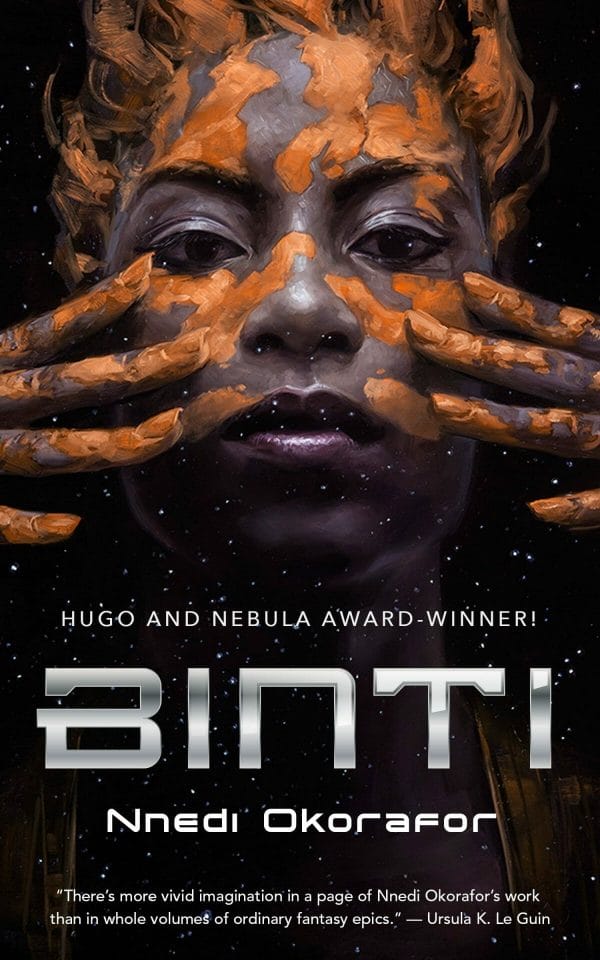 Her name is Binti, and she is the first of the Himba people ever to be offered a place at Oomza University, the finest institution of higher learning in the galaxy. But to accept the offer will mean giving up her place in her family to travel between the stars among strangers who do not share her ways or respect her customs.
Knowledge comes at a cost, one that Binti is willing to pay, but her journey will not be easy. The world she seeks to enter has long warred with the Meduse, an alien race that has become the stuff of nightmares. Oomza University has wronged the Meduse, and Binti's stellar travel will bring her within their deadly reach.
If Binti hopes to survive the legacy of a war not of her making, she will need both the gifts of her people and the wisdom enshrined within the University, itself — but first she has to make it there, alive.
The 5th Wave – Rick Yancey
After the 1st wave, only darkness remains. After the 2nd, only the lucky escape. And after the 3rd, only the unlucky survive. After the 4th wave, only one rule applies: trust no one.

Now, it's the dawn of the 5th wave, and on a lonely stretch of highway, Cassie runs from Them. The beings who only look human, who roam the countryside killing anyone they see. Who have scattered Earth's last survivors. To stay alone is to stay alive, Cassie believes, until she meets Evan Walker. Beguiling and mysterious, Evan Walker may be Cassie's only hope for rescuing her brother–or even saving herself. But Cassie must choose: between trust and despair, between defiance and surrender, between life and death. To give up or to get up.
Ender's Game – Orson Scott Card
In order to develop a secure defense against a hostile alien race's next attack, government agencies breed child geniuses and train them as soldiers. A brilliant young boy, Andrew "Ender" Wiggin lives with his kind but distant parents, his sadistic brother Peter, and the person he loves more than anyone else, his sister Valentine. Peter and Valentine were candidates for the soldier-training program but didn't make the cut—young Ender is the Wiggin drafted to the orbiting Battle School for rigorous military training.
Ender's skills make him a leader in school and respected in the Battle Room, where children play at mock battles in zero gravity. His psychological battles include loneliness, fear that he is becoming like the cruel brother he remembers, and fanning the flames of devotion to his beloved sister.
Ender's two older siblings are every bit as unusual as he is, but in very different ways. Between the three of them lie the abilities to remake a world. If, that is, the world survives.
Skyward – Brandon Sanderson
Spensa's world has been under attack for decades. Now pilots are the heroes of what's left of the human race, and becoming one has always been Spensa's dream. Since she was a little girl, she has imagined soaring skyward and proving her bravery. But her fate is intertwined with her father's–a pilot himself who was killed years ago when he abruptly deserted his team, leaving Spensa's chances of attending flight school at slim to none.
No one will let Spensa forget what her father did, yet fate works in mysterious ways. Flight school might be a long shot, but she is determined to fly. And an accidental discovery in a long-forgotten cavern might just provide her with a way to claim the stars.
Cinder – Marissa Meyer
Humans and androids crowd the raucous streets of New Beijing. A deadly plague ravages the population. From space, a ruthless lunar people watch, waiting to make their move. No one knows that Earth's fate hinges on one girl. . . .
Cinder, a gifted mechanic, is a cyborg. She's a second-class citizen with a mysterious past, reviled by her stepmother and blamed for her stepsister's illness. But when her life becomes intertwined with the handsome Prince Kai's, she suddenly finds herself at the center of an intergalactic struggle, and a forbidden attraction. Caught between duty and freedom, loyalty and betrayal, she must uncover secrets about her past in order to protect her world's future.
The Ones We're Meant to Find – Joan He
Cee has been trapped on an abandoned island for three years without any recollection of how she arrived, or memories from her life prior. All she knows is that somewhere out there, beyond the horizon, she has a sister named Kay, and it's up to Cee to cross the ocean and find her.
In a world apart, 16-year-old STEM prodigy Kasey Mizuhara lives in an eco-city built for people who protected the planet―and now need protecting from it. With natural disasters on the rise due to climate change, eco-cities provide clean air, water, and shelter. Their residents, in exchange, must spend at least a third of their time in stasis pods, conducting business virtually whenever possible to reduce their environmental footprint. While Kasey, an introvert and loner, doesn't mind the lifestyle, her sister Celia hated it. Popular and lovable, Celia much preferred the outside world. But no one could have predicted that Celia would take a boat out to sea, never to return.
Now it's been three months since Celia's disappearance, and Kasey has given up hope. Logic says that her sister must be dead. But nevertheless, she decides to retrace Celia's last steps. Where they'll lead her, she does not know. Her sister was full of secrets. But Kasey has a secret of her own.
The Knife of Never Letting Go – Patrick Ness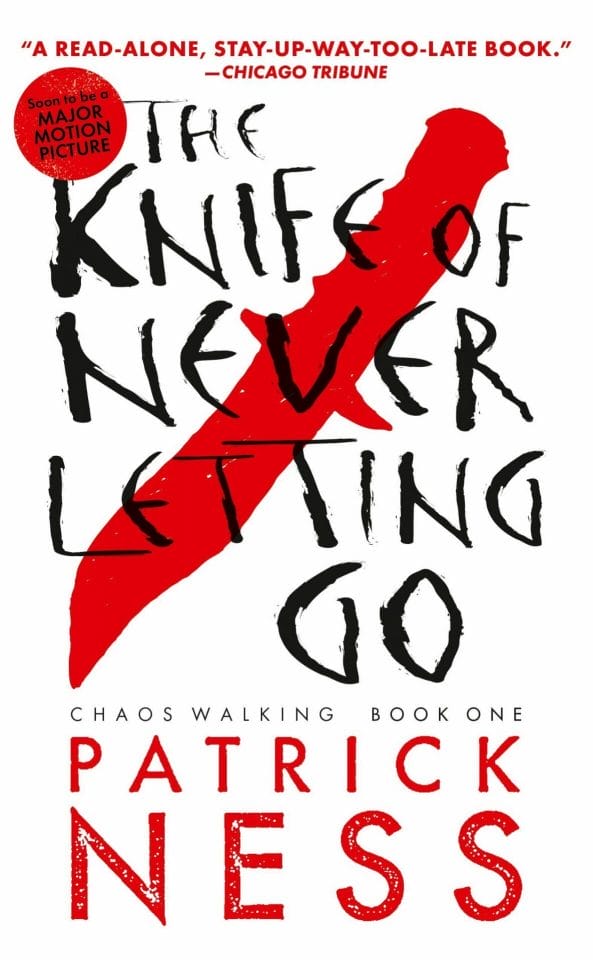 Todd Hewitt is the only boy in a town of men. Ever since the settlers were infected with the Noise germ, Todd can hear everything the men think, and they hear everything he thinks. Todd is just a month away from becoming a man, but in the midst of the cacophony, he knows that the town is hiding something from him — something so awful Todd is forced to flee with only his dog, whose simple, loyal voice he hears too.
With hostile men from the town in pursuit, the two stumble upon a strange and eerily silent creature: a girl. Who is she? Why wasn't she killed by the germ like all the females on New World? Propelled by Todd's gritty narration, readers are in for a white-knuckle journey in which a boy on the cusp of manhood must unlearn everything he knows in order to figure out who he truly is.
Legend – Marie Lu
What was once the western United States is now home to the Republic, a nation perpetually at war with its neighbors. Born into an elite family in one of the Republic's wealthiest districts, fifteen-year-old June is a prodigy being groomed for success in the Republic's highest military circles. Born into the slums, fifteen-year-old Day is the country's most wanted criminal. But his motives may not be as malicious as they seem.
From very different worlds, June and Day have no reason to cross paths – until the day June's brother, Metias, is murdered and Day becomes the prime suspect. Caught in the ultimate game of cat and mouse, Day is in a race for his family's survival, while June seeks to avenge Metias's death. But in a shocking turn of events, the two uncover the truth of what has really brought them together, and the sinister lengths their country will go to keep its secrets.
Iron Widow – Xiran Jay Zhao
Pacific Rim meets The Handmaid's Tale in this blend of Chinese history and mecha science fiction for YA readers.

The boys of Huaxia dream of pairing up with girls to pilot Chrysalises, giant transforming robots that can battle the mecha aliens that lurk beyond the Great Wall. It doesn't matter that the girls often die from the mental strain.

When 18-year-old Zetian offers herself up as a concubine-pilot, it's to assassinate the ace male pilot responsible for her sister's death. But she gets her vengeance in a way nobody expected—she kills him through the psychic link between pilots and emerges from the cockpit unscathed. She is labeled an Iron Widow, a much-feared and much-silenced kind of female pilot who can sacrifice boys to power up Chrysalises instead.​

To tame her unnerving yet invaluable mental strength, she is paired up with Li Shimin, the strongest and most controversial male pilot in Huaxia​. But now that Zetian has had a taste of power, she will not cower so easily. She will miss no opportunity to leverage their combined might and infamy to survive attempt after attempt on her life, until she can figure out exactly why the pilot system works in its misogynist way—and stop more girls from being sacrificed.
The Maze Runner – James Dashner
When Thomas wakes up in the lift, the only thing he can remember is his name. He's surrounded by strangers—boys whose memories are also gone.
Outside the towering stone walls that surround them is a limitless, ever-changing maze. It's the only way out—and no one's ever made it through alive.
Then a girl arrives. The first girl ever. And the message she delivers is terrifying.
Remember. Survive. Run.
Divergent – Veronica Roth

One choice can transform you. Beatrice Prior's society is divided into five factions—Candor (the honest), Abnegation (the selfless), Dauntless (the brave), Amity (the peaceful), and Erudite (the intelligent). Beatrice must choose between staying with her Abnegation family and transferring factions.
Her choice will shock her community and herself. But the newly christened Tris also has a secret, one she's determined to keep hidden, because in this world, what makes you different makes you dangerous.
War Girls – Tochi Onyebuchi
The year is 2172. Climate change and nuclear disasters have rendered much of earth unlivable. Only the lucky ones have escaped to space colonies in the sky.
In a war-torn Nigeria, battles are fought using flying, deadly mechs and soldiers are outfitted with bionic limbs and artificial organs meant to protect them from the harsh, radiation-heavy climate. Across the nation, as the years-long civil war wages on, survival becomes the only way of life.
Two sisters, Onyii and Ify, dream of more. Their lives have been marked by violence and political unrest. Still, they dream of peace, of hope, of a future together.
And they're willing to fight an entire war to get there.
Scythe – Neal Shusterman
A world with no hunger, no disease, no war, no misery: humanity has conquered all those things, and has even conquered death. Now Scythes are the only ones who can end life—and they are commanded to do so, in order to keep the size of the population under control.
Citra and Rowan are chosen to apprentice to a scythe—a role that neither wants. These teens must master the "art" of taking life, knowing that the consequence of failure could mean losing their own.
The Hunger Games – Suzanne Collins
In the ruins of a place once known as North America lies the nation of Panem, a shining Capitol surrounded by twelve outlying districts. The Capitol keeps the districts in line by forcing them all to send one boy and one girl between the ages of twelve and eighteen to participate in the annual Hunger Games, a fight to the death on live TV.Sixteen-year-old Katniss Everdeen regards it as a death sentence when she steps forward to take her sister's place in the Games. But Katniss has been close to death before-and survival, for her, is second nature. Still, if she is to win, she will have to start making choices that weigh survival against humanity and life against love.
Noughts & Crosses – Malorie Blackman
Sephy is a Cross: dark-skinned and beautiful, she lives a life of privilege and power. But she's lonely, and she burns with injustice at the world she sees around her.
Callum is a nought: pale-skinned and poor, he's considered to be less than nothing, there to serve Crosses, but he dreams of a better life.
They've been friends since they were children, and they both know that's as far as it can ever go. Noughts and Crosses are fated to be bitter enemies—love is out of the question.
Then—in spite of a world that is fiercely against them—these star-crossed lovers choose each other.
But it comes at a price and as they prepare to protect themselves and their love, they realize that the cost will lead both of them into terrible danger…and will have shocking repercussions for generations to come.
Control – Lydia Kang
Set in 2150 — in a world of automatic cars, nightclubs with auditory ecstasy drugs, and guys with four arms — this is about the human genetic "mistakes" that society wants to forget, and the way that outcasts can turn out to be heroes.
When their overprotective father is killed in a terrible accident, Zel and her younger sister, Dylia, are lost in grief. But it's not until strangers appear, using bizarre sensory weapons, that the life they had is truly eviscerated. Zel ends up in a safe house for teens that aren't like any she's ever seen — teens who, by law, shouldn't even exist. One of them — an angry tattooed boy haunted by tragedy — can help Zel reunite with her sister.
But only if she is willing to lose him.
The Disasters – M.K. England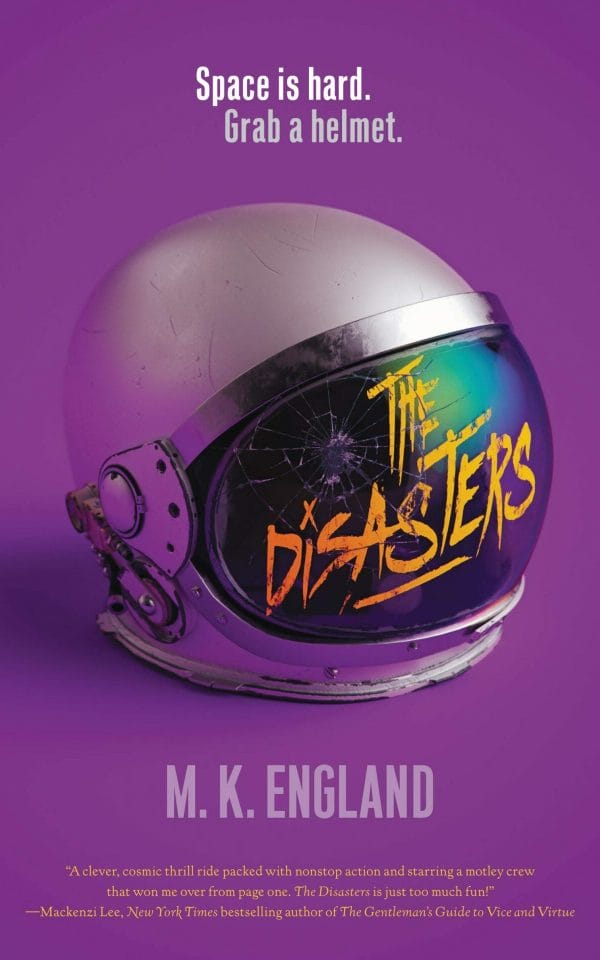 Hotshot pilot Nax Hall has a history of making poor life choices. So it's not exactly a surprise when he's kicked out of the elite Ellis Station Academy in less than twenty-four hours. But Nax's one-way trip back to Earth is cut short when a terrorist group attacks the Academy.
Nax and three other washouts escape—barely—but they're also the sole witnesses to the biggest crime in the history of space colonization. And the perfect scapegoats.
On the run, Nax and his fellow failures plan to pull off a dangerous heist to spread the truth. Because they may not be "Academy material," and they may not even get along, but they're the only ones left to step up and fight.
The Weight of the Stars – K. Ancrum

Ryann Bird dreams of traveling across the stars. But a career in space isn't an option for a girl who lives in a trailer park on the "wrong" side of town. So Ryann becomes her circumstances and settles for acting out and skipping school to hang out with her delinquent friends.
One day she meets Alexandria: a furious loner who spurns Ryann's offer of friendship. After a horrific accident leaves Alexandria with a broken arm, the girls are brought together despite themselves—and Ryann learns her secret: Alexandria's mother is an astronaut who volunteered for a one-way trip to the edge of the solar system.
Every night without fail, Alexandria waits to catch radio signals from her mother. And now it's up to Ryann to lift her onto the roof day after day until the silence between them grows into friendship, and eventually something more.
Renegades – Marissa Meyer
The Renegades are a syndicate of prodigies—humans with extraordinary abilities—who emerged from the ruins of a crumbled society and established peace and order where chaos reigned. As champions of justice, they remain a symbol of hope and courage to everyone…except the villains they once overthrew.
Nova has a reason to hate the Renegades, and she is on a mission for vengeance. As she gets closer to her target, she meets Adrian, a Renegade boy who believes in justice—and in Nova. But Nova's allegiance is to the villains who have the power to end them both.
Matched – Ally Condie
Cassia has always trusted the Society to make the right choices for her: what to read, what to watch, what to believe. So when Xander's face appears on-screen at her Matching ceremony, Cassia knows with complete certainty that he is her ideal mate . . . until she sees Ky Markham's face flash for an instant before the screen fades to black.
The Society tells her it's a glitch, a rare malfunction, and that she should focus on the happy life she's destined to lead with Xander. But Cassia can't stop thinking about Ky, and as they slowly fall in love, Cassia begins to doubt the Society's infallibility and is faced with an impossible choice: between Xander and Ky, between the only life she's known and a path that no one else has dared to follow.
Not Your Sidekick – C.B Lee
Welcome to Andover, where superpowers are common, but internships are complicated. Just ask high school nobody, Jessica Tran. Despite her heroic lineage, Jess is resigned to a life without superpowers and is merely looking to beef up her college applications when she stumbles upon the perfect (paid!) internship–only it turns out to be for the towns most heinous supervillain. On the upside, she gets to work with her longtime secret crush, Abby, whom Jess thinks may have a secret of her own.
Then there's the budding attraction to her fellow intern, the mysterious "M," who never seems to be in the same place as Abby. But what starts as a fun way to spite her superhero parents takes a sudden and dangerous turn when she uncovers a plot larger than heroes and villains altogether
The Sound of Stars – Alechia Dow
Two years ago, a misunderstanding between the leaders of Earth and the invading Ilori resulted in the death of one-third of the world's population. Today, seventeen-year-old Ellie Baker survives in an Ilori-controlled center in New York City. All art, books and creative expression are illegal, but Ellie breaks the rules by keeping a secret library.
When young Ilori commander Morris finds Ellie's illegal library, he's duty-bound to deliver her for execution. But Morris isn't a typical Ilori…and Ellie and her books might be the key to a desperate rebellion of his own.
This Mortal Coil – Emily Suvada
Catarina Agatta is a hacker. She can cripple mainframes and crash through firewalls, but that's not what makes her special. In Cat's world, people are implanted with technology to recode their DNA, allowing them to change their bodies in any way they want. And Cat happens to be a gene-hacking genius.
Now Cat must decide who she can trust: The soldier with secrets of his own? The father who made her promise to hide from Cartaxus at all costs? In a world where nature itself can be rewritten, how much can she even trust herself?
The Giver – Lois Lowery
Life in the community where Jonas lives is idyllic. Designated birthmothers produce newchildren, who are assigned to appropriate family units. Citizens are assigned their partners and their jobs. No one thinks to ask questions. Everyone obeys. Everyone is the same. Except Jonas.
Not until he is given his life assignment as the Receiver of Memory does he begin to understand the dark, complex secrets behind his fragile community. Gradually Jonas learns that power lies in feelings. But when his own power is put to the test he may not be ready. Is it too soon? Or too late?
Defy the Stars – Claudia Gray

She's a soldier–Noemi Vidal is willing to risk anything to protect her planet, Genesis, including her own life. To their enemies on Earth, she's a rebel.
He's a machine–Abandoned in space for years, utterly alone, Abel's advanced programming has begun to evolve. He wants only to protect his creator, and to be free. To the people of Genesis, he's an abomination.
Noemi and Abel are enemies in an interstellar war, forced by chance to work together as they embark on a daring journey through the stars.
The Loneliest Girl in the Universe – Lauren James
The daughter of two astronauts, Romy Silvers is no stranger to life in space. But she never knew how isolating the universe could be until her parents' tragic deaths left her alone on the Infinity, a spaceship speeding away from Earth.
Romy tries to make the best of her lonely situation, but she can't help but feel like something is missing. It seems like a dream come true when NASA alerts her that another ship, the Eternity, will be joining the Infinity.
Romy begins exchanging messages with J, the captain of the Eternity, and their friendship breathes new life into her world. But as the Eternity gets closer, Romy learns there's more to J's mission than she could have imagined. And suddenly, there are worse things than being alone….
The 100 – Kass Morgan

No one has set foot on Earth in centuries — until now.
Ever since a devastating nuclear war, humanity has lived on spaceships far above Earth's radioactive surface. Now, one hundred juvenile delinquents — considered expendable by society — are on a dangerous mission: to recolonize the planet. It could be their second chance at life…or it could be a suicide mission.
Confronted with a savage land and haunted by secrets from their pasts, the hundred must fight to survive. They were never meant to be heroes, but they may be mankind's last hope.
Want – Cindy Pon
Jason Zhou survives in a divided society where the elite use their wealth to buy longer lives. The rich wear special suits, protecting them from the pollution and viruses that plague the city, while those without suffer illness and early death. Zhou is determined to change things, no matter the cost.
Shatter Me – Tahereh Mafi
One touch, and Juliette Ferrars can leave a fully grown man gasping for air. One touch, and she can kill.
No one knows why Juliette has such incredible power. It feels like a curse, a burden that one person alone could never bear. But The Reestablishment sees it as a gift, sees her as an opportunity. An opportunity for a deadly weapon.
---
Frequently Asked Questions
What are young adult sci fi books?
Young adult science fiction is a sub-genre of science fiction literature aimed at readers between the ages of 12 and 18. It typically features protagonists who are also young adults, and explores themes and issues relevant to teenagers, such as identity, relationships, and social issues, through the lens of science fiction.
Which books are popular young adult sci fi books?
Some popular young adult science fiction books include "The Hunger Games" trilogy by Suzanne Collins, "Divergent" trilogy by Veronica Roth, and "The Maze Runner" trilogy by James Dashner. All three have been adapted into film series!
What are some common themes in young adult science fiction?
Common themes in young adult science fiction include dystopian societies, first contact with alien life, time travel, virtual reality, genetic engineering, and post-apocalyptic worlds.
How is young adult science fiction different from adult science fiction?
Young adult science fiction often features younger protagonists and simpler language than adult science fiction. It also tends to focus more on coming-of-age themes and issues that are relevant to teenagers. Adult science-fiction may incorporate more violence, sex, or discrimination.
---
Whether you're a die-hard sci-fi fan or just starting to dip your toes into the genre, there's no shortage of incredible young adult sci-fi books out there to captivate and inspire you. From dystopian futures to thrilling space adventures, these books will transport you to new worlds and expand your imagination. So what are you waiting for? Pick up one of these YA books today and prepare to embark on an unforgettable journey into the unknown.
Enjoy these recommendations? Why not try some Young Adult Fantasy Books?