Whether you're an avid reader seeking your next adrenaline-fueled adventure or a newcomer yearning to explore uncharted realms, this article invites you to discover a curated collection of 30 remarkable fantasy adventure books. These tales of heroism, magic, and discovery will immerse you in realms where the ordinary gives way to the extraordinary, where courage is tested, and where destinies are forged.
Prepare to lose yourself in the pages of these novels, as legendary heroes and heroines face daunting trials, battling against formidable foes and encountering unexpected allies along the way. These stories transport us from enchanted forests to sprawling kingdoms, from treacherous mountains to vast oceans, and from ancient ruins to dazzling cities, all within the turn of a page.
Table of Contents [CLICK HERE TO OPEN]
Fantasy Adventure Books
Whether you seek ancient prophecies, mythical creatures, arcane magic, or tales of personal growth and redemption, these fantasy adventure books are bound to ignite your imagination.
Get ready to turn the page and step into a world where anything is possible.
The Eye of the World – Robert Jordon

The Wheel of Time turns and Ages come and pass, leaving memories that become legend. Legend fades to myth, and even myth is long forgotten when the Age that gave it birth returns again. What was, what will be, and what is, may yet fall under the Shadow.
When a vicious band of half-men, half beasts invade the Two Rivers seeking their master's enemy, Moiraine persuades Rand al'Thor and his friends to leave their home and enter a larger unimaginable world filled with dangers waiting in the shadows and in the light.
Assassin's Apprentice – Robin Hobb
A Corner Stone of Fantasy Adventure Books!
Young Fitz is the bastard son of the noble Prince Chivalry, raised in the shadow of the royal court by his father's gruff stableman. He is treated as an outcast by all the royalty except the devious King Shrewd, who has him secretly tutored in the arts of the assassin. For in Fitz's blood runs the magic Skill—and the darker knowledge of a child raised with the stable hounds and rejected by his family.
As barbarous raiders ravage the coasts, Fitz is growing to manhood. Soon he will face his first dangerous, soul-shattering mission. And though some regard him as a threat to the throne, he may just be the key to the survival of the kingdom.
Mistborn – Brandon Sanderson
Kelsier recruited the underworld's elite, the smartest and most trustworthy allomancers, each of whom shares one of his many powers, and all of whom relish a high-stakes challenge. Only then does he reveal his ultimate dream, not just the greatest heist in history, but the downfall of the divine despot.
But even with the best criminal crew ever assembled, Kel's plan looks more like the ultimate long shot, until luck brings a ragged girl named Vin into his life. Like him, she's a half-Skaa orphan, but she's lived a much harsher life. Vin has learned to expect betrayal from everyone she meets, and gotten it. She will have to learn to trust, if Kel is to help her master powers of which she never dreamed.
This saga dares to ask a simple question: What if the hero of prophecy fails?
The Blade Itself – Joe Abercrombie
Logen Ninefingers, infamous barbarian, has finally run out of luck. Caught in one feud too many, he's on the verge of becoming a dead barbarian — leaving nothing behind him but bad songs, dead friends, and a lot of happy enemies.
Nobleman, dashing officer, and paragon of selfishness, Captain Jezal dan Luthar has nothing more dangerous in mind than fleecing his friends at cards and dreaming of glory in the fencing circle.
Inquisitor Glokta, cripple turned torturer, would like nothing better than to see Jezal come home in a box. But then Glokta hates everyone: cutting treason out of the Union one confession at a time leaves little room for friendship.
Enter the wizard, Bayaz. A bald old man with a terrible temper and a pathetic assistant, he could be the First of the Magi, he could be a spectacular fraud.
Murderous conspiracies rise to the surface, old scores are ready to be settled, and the line between hero and villain is sharp enough to draw blood.
The Princess Bride – William Goldman

William Goldman's beloved story of Buttercup, Westley, and their fellow adventurers.
This tale of true love, high adventure, pirates, princesses, giants, miracles, fencing, and a frightening assortment of wild beasts was unforgettably depicted in the 1987 film directed by Rob Reiner and starring Fred Savage, Robin Wright, and others. But, rich in character and satire, the novel boasts even more layers of ingenious storytelling. Set in 1941 and framed cleverly as an "abridged" retelling of a centuries-old tale set in the fabled country of Florin, home to "Beasts of all natures and descriptions. Pain. Death. Brave men. Coward men. Strongest men. Chases. Escapes. Lies. Truths. Passions.
The Lord of The Rings – J.R.R. Tolkein

One Ring to rule them all, One Ring to find them, One Ring to bring them all and in the darkness bind them.
When Bilbo reached his eleventy-first birthday he disappeared, bequeathing to his young cousin Frodo the Ruling Ring and a perilous quest: to journey across Middle-earth, deep into the shadow of the Dark Lord, and destroy the Ring by casting it into the Cracks of Doom.
Stardust – Neil Gaiman
Give the gift of STARDUST!
Young Tristran Thorn will do anything to win the cold heart of beautiful Victoria—even fetch her the star they watch fall from the night sky. But to do so, he must enter the unexplored lands on the other side of the ancient wall that gives their tiny village its name. Beyond that old stone wall, Tristran learns, lies Faerie—where nothing not even a fallen star, is what he imagined.
The Hobbit – J.R.R. Tolkien
Bilbo Baggins is a hobbit who enjoys a comfortable, unambitious life, rarely traveling any farther than his pantry or cellar. But his contentment is disturbed when the wizard Gandalf and a company of dwarves arrive on his doorstep one day to whisk him away on an adventure. They have launched a plot to raid the treasure hoard guarded by Smaug the Magnificent, a large and very dangerous dragon. Bilbo reluctantly joins their quest, unaware that on his journey to the Lonely Mountain he will encounter both a magic ring and a frightening creature known as Gollum.
Howl's Moving Castle – Diana Wynne Jones
Sophie has the great misfortune of being the eldest of three daughters, destined to fail miserably should she ever leave home to seek her fate. But when she unwittingly attracts the ire of the Witch of the Waste, Sophie finds herself under a horrid spell that transforms her into an old lady. Her only chance at breaking it lies in the ever-moving castle in the hills: the Wizard Howl's castle.
To untangle the enchantment, Sophie must handle the heartless Howl, strike a bargain with a fire demon, and meet the Witch of the Waste head-on. Along the way, she discovers that there's far more to Howl—and herself—than first meets the eye.
Jade City – Fonda Lee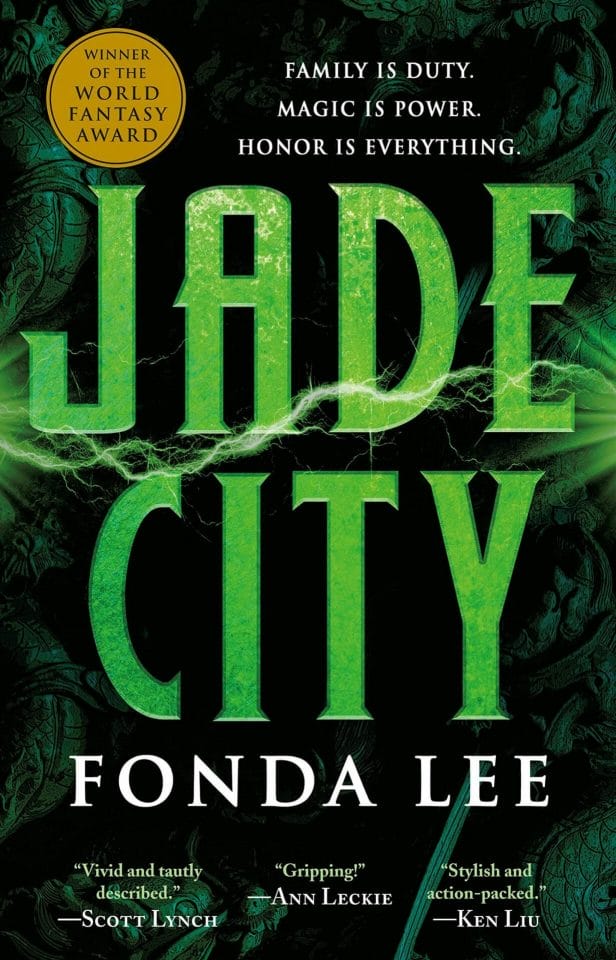 ade is the lifeblood of the island of Kekon. It has been mined, traded, stolen, and killed for — and for centuries, honorable Green Bone warriors like the Kaul family have used it to enhance their magical abilities and defend the island from foreign invasion.
Now, the war is over and a new generation of Kauls vies for control of Kekon's bustling capital city. They care about nothing but protecting their own, cornering the jade market, and defending the districts under their protection. Ancient tradition has little place in this rapidly changing nation.
When a powerful new drug emerges that lets anyone — even foreigners — wield jade, the simmering tension between the Kauls and the rival Ayt family erupts into open violence. The outcome of this clan war will determine the fate of all Green Bones — and of Kekon itself.
An Ember in the Ashes – Sabaa Tahir
Laia is a slave. Elias is a soldier. Neither is free.

Under the Martial Empire, defiance is met with death. Those who do not vow their blood and bodies to the Emperor risk the execution of their loved ones and the destruction of all they hold dear.

It is in this brutal world, inspired by ancient Rome, that Laia lives with her grandparents and older brother. The family ekes out an existence in the Empire's impoverished backstreets. They do not challenge the Empire. They've seen what happens to those who do.

There, Laia meets Elias, the school's finest soldier—and secretly, its most unwilling. Elias wants only to be free of the tyranny he's being trained to enforce. He and Laia will soon realize that their destinies are intertwined—and that their choices will change the fate of the Empire itself.
Children of Blood and Bone – Tomi Adeyemi
Zélie Adebola remembers when the soil of Orïsha hummed with magic. Burners ignited flames, Tiders beckoned waves, and Zélie's Reaper mother summoned forth souls.
But everything changed the night magic disappeared. Under the orders of a ruthless king, maji were killed, leaving Zélie without a mother and her people without hope.
Now Zélie has one chance to bring back magic and strike against the monarchy. With the help of a rogue princess, Zélie must outwit and outrun the crown prince, who is hell-bent on eradicating magic for good.
Danger lurks in Orïsha, where snow leoponaires prowl and vengeful spirits wait in the waters. Yet the greatest danger may be Zélie herself as she struggles to control her powers and her growing feelings for an enemy.
Gardens of the Moon – Steven Erikson

The Malazan Empire simmers with discontent, bled dry by interminable warfare, bitter infighting and bloody confrontations with the formidable Anomander Rake and his Tiste Andii, ancient and implacable sorcerers. Even the imperial legions, long inured to the bloodshed, yearn for some respite. Yet Empress Laseen's rule remains absolute, enforced by her dread Claw assassins.
For Sergeant Whiskeyjack and his squad of Bridgeburners, and for Tattersail, surviving cadre mage of the Second Legion, the aftermath of the siege of Pale should have been a time to mourn the many dead. But Darujhistan, last of the Free Cities of Genabackis, yet holds out. It is to this ancient citadel that Laseen turns her predatory gaze.
The Color of Magic – Terry Pratchett
Terry Pratchett's profoundly irreverent, bestselling novels have garnered him a revered position in the halls of parody next to the likes of Mark Twain, Kurt Vonnegut, Douglas Adams, and Carl Hiaasen. The Color of Magic is Terry Pratchett's maiden voyage through the now-legendary land of Discworld. This is where it all begins — with the tourist Twoflower and his wizard guide, Rincewind.
The Poppy War – R.F. Kuang
For while the Nikara Empire is at peace, the Federation of Mugen still lurks across a narrow sea. The militarily advanced Federation occupied Nikan for decades after the First Poppy War, and only barely lost the continent in the Second. And while most of the people are complacent to go about their lives, a few are aware that a Third Poppy War is just a spark away . . .
Rin's shamanic powers may be the only way to save her people. But as she finds out more about the god that has chosen her, the vengeful Phoenix, she fears that winning the war may cost her humanity . . . and that it may already be too late.
Six of Crows – Leigh Bardugo
Meet Kaz Brekker and his crew: Jesper, Inej, Wylan, and the star-crossed Nina and Matthias, on the heist of a lifetime in Six of Crows from #1 bestselling author, Leigh Bardugo.

Ketterdam: a bustling hub of international trade where anything can be had for the right price—and no one knows that better than criminal prodigy Kaz Brekker. Kaz is offered a chance at a deadly heist that could make him rich beyond his wildest dreams. But he can't pull it off alone. . . .

A convict with a thirst for revenge.

A sharpshooter who can't walk away from a wager.

A runaway with a privileged past.

A spy known as the Wraith.

A Heartrender using her magic to survive the slums.

A thief with a gift for unlikely escapes.

Six dangerous outcasts. One impossible heist. Kaz's crew is the only thing that might stand between the world and destruction—if they don't kill each other first.

Six of Crows by Leigh Bardugo returns to the breathtaking world of the Grishaverse in this unforgettable tale about the opportunity—and the adventure—of a lifetime.
The Night Circus – Erin Morgenstern


The circus arrives without warning. No announcements precede it. It is simply there, when yesterday it was not. Within the black-and-white striped canvas tents is an utterly unique experience full of breathtaking amazements. It is called Le Cirque des Rêves, and it is only open at night.

But behind the scenes, a fierce competition is underway: a duel between two young magicians, Celia and Marco, who have been trained since childhood expressly for this purpose by their mercurial instructors. Unbeknownst to them both, this is a game in which only one can be left standing. Despite the high stakes, Celia and Marco soon tumble headfirst into love, setting off a domino effect of dangerous consequences, and leaving the lives of everyone, from the performers to the patrons, hanging in the balance.
The Lies of Locke Lamora – Scott Lynch
An orphan's life is harsh—and often short—in the mysterious island city of Camorr. But young Locke Lamora dodges death and slavery, becoming a thief under the tutelage of a gifted con artist. As leader of the band of light-fingered brothers known as the Gentleman Bastards, Locke is soon infamous, fooling even the underworld's most feared ruler. But in the shadows lurks someone still more ambitious and deadly. Faced with a bloody coup that threatens to destroy everyone and everything that holds meaning in his mercenary life, Locke vows to beat the enemy at his own brutal game—or die trying.
The Way of Kings – Brandon Sanderson
It has been centuries since the fall of the ten consecrated orders known as the Knights Radiant, but their Shardblades and Shardplate remain: mystical swords and suits of armor that transform ordinary men into near-invincible warriors. Men trade kingdoms for Shardblades. Wars were fought for them, and won by them.
Brightlord Dalinar Kholin commands one of those other armies. Like his brother, the late king, he is fascinated by an ancient text called The Way of Kings. Troubled by over-powering visions of ancient times and the Knights Radiant, he has begun to doubt his own sanity.
The Fifth Season – N.K. Jemisin

This is the way the world ends. . .for the last time.
It starts with the great red rift across the heart of the world's sole continent, spewing ash that blots out the sun. It starts with death, with a murdered son and a missing daughter. And It starts with betrayal, and long dormant wounds rising up to fester.
This is the Stillness, a land long familiar with catastrophe, where the power of the earth is wielded as a weapon. And where there is no mercy.
The Sword of Shannara – Terry Brooks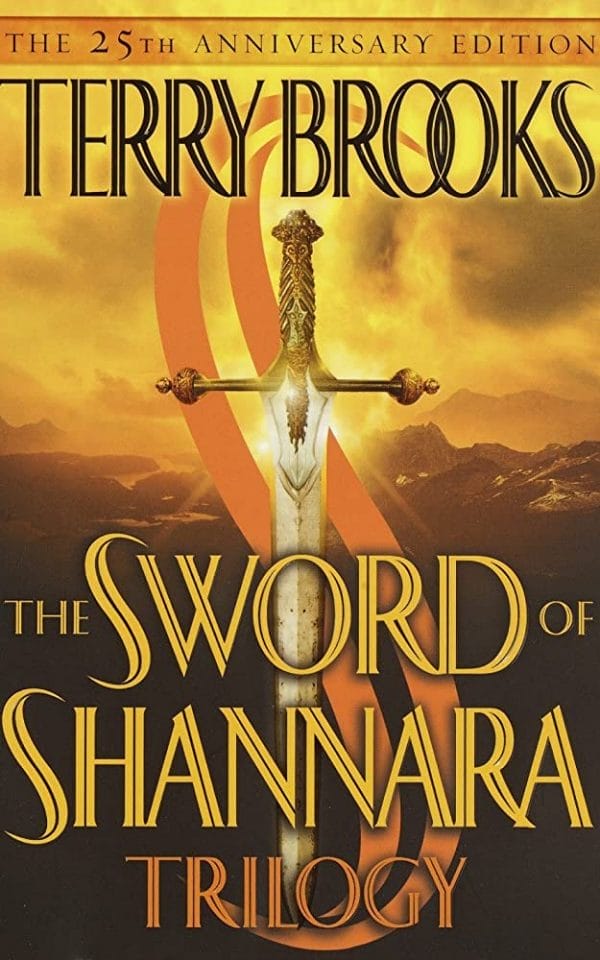 The Sword of Shannara is the first volume of the classic series that has become one of the most popular fantasy adventure books of all time.

Long ago, the wars of the ancient Evil ruined the world. In peaceful Shady Vale, half-elfin Shea Ohmsford knows little of such troubles. But the supposedly dead Warlock Lord is plotting to destroy everything in his wake. The sole weapon against this Power of Darkness is the Sword of Shannara, which can be used only by a trueheir of Shannara. On Shea, last of the bloodline,rests the hope of all the races.

Thus begins the enthralling Shannara epic,a spellbinding tale of adventure, magic, and myth . .
Eragon – Christopher Paolini
When fifteen-year-old Eragon finds a polished blue stone in the forest, he thinks it is the lucky discovery of a poor farm boy. But when the stone brings a dragon hatchling, Eragon soon realizes he has stumbled upon a legacy nearly as old as the Empire itself.
Overnight his simple life is shattered, and, gifted with only an ancient sword, a loyal dragon, and sage advice from an old storyteller, Eragon is soon swept into a dangerous tapestry of magic, glory, and power. Now his choices could save—or destroy—the Empire.
Who Fears Death – Nnedi Okorafor

Now optioned as a TV series for HBO, with executive producer George R. R. Martin!
In a post-apocalyptic Africa, the world has changed in many ways; yet in one region genocide between tribes still bloodies the land. A woman who has survived the annihilation of her village and a terrible rape by an enemy general wanders into the desert, hoping to die. Instead, she gives birth to an angry baby girl with hair and skin the color of sand. Gripped by the certainty that her daughter is different—special—she names her Onyesonwu, which means "Who fears death?" in an ancient language.

It doesn't take long for Onye to understand that she is physically and socially marked by the circumstances of her conception. She is Ewu—a child of rape who is expected to live a life of violence, a half-breed rejected by her community. But Onye is not the average Ewu. Even as a child, she manifests the beginnings of a remarkable and unique magic. As she grows, so do her abilities, and during an inadvertent visit to the spirit realm, she learns something terrifying: someone powerful is trying to kill her.
The Priory of the Orange Tree – Samantha Shannon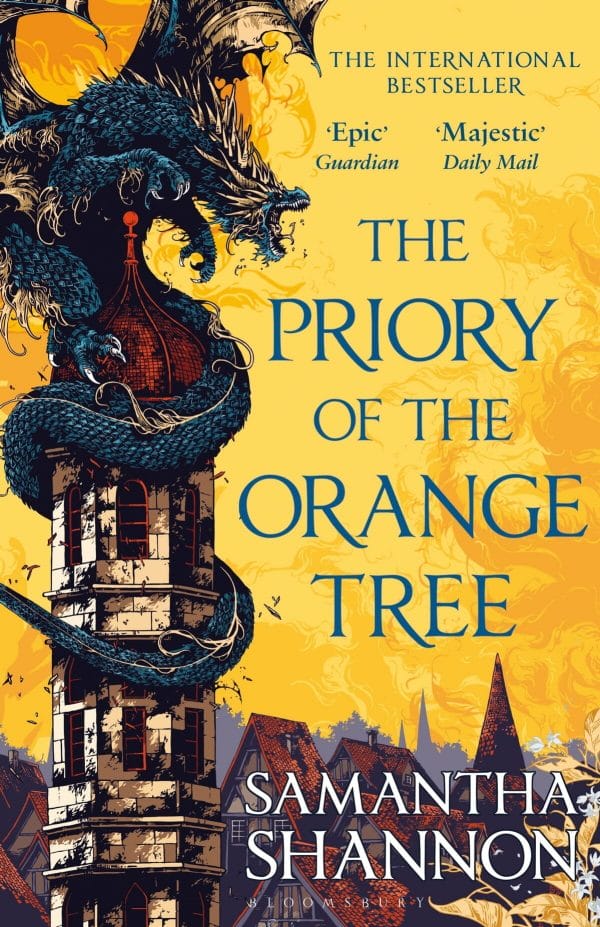 A world divided.
A queendom without an heir.
The ancient enemy awakens.

The House of Berethnet has ruled Inys for a thousand years. Still unwed, Queen Sabran the Ninth must conceive a daughter to protect her realm from destruction–but assassins are getting closer to her door.

Ead Duryan is an outsider at court. Though she has risen to the position of lady-in-waiting, she is loyal to a hidden society of mages. Ead keeps a watchful eye on Sabran, secretly protecting her with forbidden magic.

Across the dark sea, Tané has trained all her life to be a dragonrider, but is forced to make a choice that could see her life unravel.

Meanwhile, the divided East and West refuse to parley, and forces of chaos are rising from their sleep.
Jonathan Strange and Mr Norrell – Susanna Clarke
In the midst of the Napoleonic Wars in 1806, most people believe magic to have long since disappeared from England. Until the reclusive Mr. Norrell reveals his powers and becomes an overnight celebrity.
Another practicing magician then emerges: the young and daring Jonathan Strange. He becomes Norrell's pupil, and the two join forces in the war against France.
But Strange is increasingly drawn to the wild, most perilous forms of magic, and he soon risks sacrificing his partnership with Norrell and everything else he holds dear.
The Lightning Thief – Percy Jackon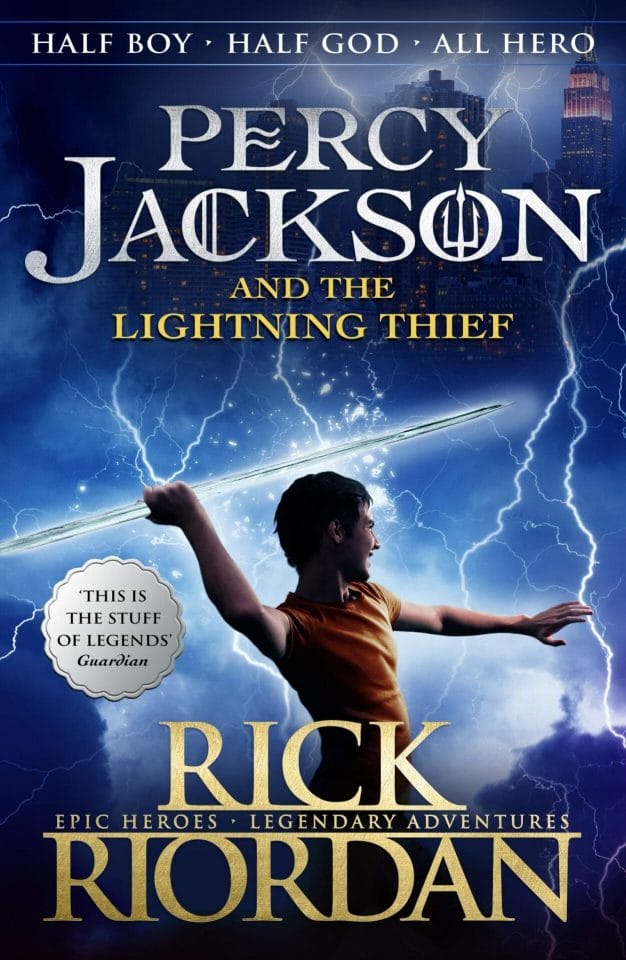 A Corner Stone of YA Fantasy Adventure Books!
Percy Jackson is about to be kicked out of boarding school…again. And that's the least of his troubles. Lately, mythological monsters and the gods of Mount Olympus seem to be walking straight out of the pages of Percy's Greek mythology textbook and into his life.

The Lion, The Witch and the Wardrobe – C.S. Lewis
The Name of the Wind – Patrick Rothfuss
My name is Kvothe.

I burned down the town of Trebon. And I have spent the night with Felurian and left with both my sanity and my life. I was expelled from the University at a younger age than most people are allowed in; I tread paths by moonlight that others fear to speak of during day; I have talked to Gods, loved women, and written songs that make the minstrels weep.

You may have heard of me.
The Last Unicorn – Peter S. Beagle
The unicorn lived in a lilac wood, and she lived all alone…

…so she ventured out from the safety of the enchanted forest on a quest for others of her kind. Joined along the way by the bumbling magician Schmendrick and the indomitable Molly Grue, the unicorn learns all about the joys and sorrows of life and love before meeting her destiny in the castle of a despondent monarch—and confronting the creature that would drive her kind to extinction….
Black Leopard, Red Wolf – Marlon James
Tracker is known far and wide for his skills as a hunter: "He has a nose," people say. Engaged to track down a mysterious boy who disappeared three years earlier, Tracker breaks his own rule of always working alone when he finds himself part of a group that comes together to search for the boy. The band is a hodgepodge, full of unusual characters with secrets of their own.
As Tracker follows the boy's scent–from one ancient city to another; into dense forests and across deep rivers–he and the band are set upon by creatures intent on destroying them. As he struggles to survive, Tracker starts to wonder: Who, really, is this boy? Why has he been missing for so long? Why do so many people want to keep Tracker from finding him? And perhaps the most important questions of all: Who is telling the truth, and who is lying?
---
Frequently Asked Questions
What are Fantasy Adventure books?
A type of adventure book where the action takes place in imaginary lands with strange beasts, wizards and witches.
Which epic Fantasy Adventure book series should I read?
The best of the Fantasy Adventure books are:
The Chronicles of Narnia by C.S. Lewis
The Lord of the Rings by JRR Tolkien
A Game of Thrones by George RR Martin
Assassin's Apprentice by Robin Hobb
What makes a good adventure novel?
A good adventure novel typically possesses several key elements that captivate readers and keep them engaged throughout the story. Here are some factors that contribute to making a compelling adventure novel:
Engaging Plot
Dynamic Characters
Vivid Settings
Pacing
Conflict
Exploration
Emotional Resonance
Suspense
---
Enjoyed these Fantast Adventure books? Why not try out some Fantasy Magic Books?