One of the most important things when watching anime is finding a character you think is so cute that you want to squeeze them! Especially in slice of life anime, cuteness is a vital factor in choosing a beloved character.
So we've narrowed down out top 40 cute anime characters for your convenience!
Watch Anime Now: Crunchyroll | Funimation | Hulu | Netflix
Table of Contents [CLICK HERE TO OPEN]
Cutest Anime Girls
Tsumugi Inuzaka
Amaama to Inazuma
Tsumugi is a very cute young girl with hip-length dirty blonde hair that is typically kept in a very wild and frilly manner, but there are instances when she ties it into a ponytail while wearing a baseball cap and vivid green eyes. She is optimistic and loves food and we think she is just the cutest thing!
Anya
Spy x Family
Anya Forger is the deuteragonist of the SPY x FAMILY series. Formerly known as Test Subject "007", she is a telepath whose abilities were created in an experiment conducted by an unknown organization. Her powers may be strong, but it's hard to think such a cute anime character can be dangerous!
Umaru Doma
Himoto! Umaru-chan!
Umaru has two forms: indoor form and outdoor form. Don't we all? Her outdoor form is attractive and well put-together, but her indoor form is lazy, messy and childlike. This form is also referred to as her 'hamster form'. This cute form is definitely relatable!

Yaya Yuiki
Shugo Chara!
Lover of all things cute, Yaya is the childish girl serving in the Ace's Chair. She has a huge sweet tooth and loves childish things and tends to be quite hyperactive. Yaya even wants to be a baby forever, so it makes sense that her character transformation turns her into a Dear Baby character! She definitely has the younger sister vibe.
Mirai Kuriyama
Kyoukai no Kanata
Anyone and everyone should recognise this beloved character. Her nondescript and casual design stole the hearts of everyone. Modest and not portrayed as necessarily childish, this character's sweet and shy nature lands her on a spot of this list of cute anime characters (mostly thanks to her cardigan).
Nezuko
Demon Slayer: Kimetsu no Yaiba
As a human, Nezuko was a kind and caring girl, who thought of others before herself much like her older brother, Tanjiro, and was a responsible older sister to her younger siblings. Nezuko is, however, not afraid to get in harm's way, protecting her friends from Demons even after being returned to a human state. This gentle persona despite her having occasionally turned into a demon makes her a fan-favorite.
Bu-Ling Huang (Pudding Fong)
Tokyo Mew Mew
Bu-Ling likes doing acrobatics and is very playful. The other characters agree that her monkey DNA is a perfect match for her personality, as she is full of energy and loves having fun – to the point where some consider her very immature. She is also the most hyperactive member of the team, this alongside her young age makes her an unarguably cute anime character"
Kaname Madoka
Puella Magi Madoka Magica
Madoka is seen to be a very kind girl who attempts to help and comfort anyone to the best of her ability, but is also shown to be quite timid. She believes that helping others is the only thing she can offer to the world. Madoka is easily flustered, and can often be manipulated through her desire to help others. This type of sheepish and modest character with such cute hair will always be cute!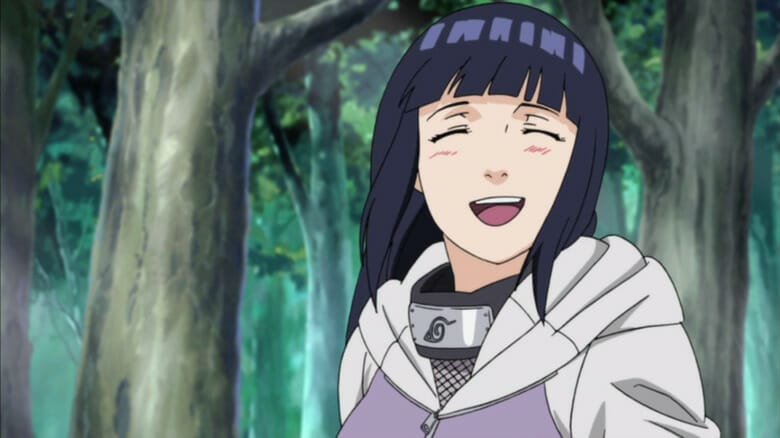 Hinata Hyuga
Naruto
It should be no surprise anime fans that Hinata is on this list. One of the corner stones of cute anime characters, Hinata won over fans with her genuine shy personality and her cute crush on Naruto. She then proved herself with her skill and ended up marrying her crush!
Kanna Kamui
Miss Kobayashi's Dragon Maid
Kanna is soft-spoken and quiet and demonstrates most of her emotions through minute expressions. Despite being technically older than her human peers, Kanna behaves no differently from a human child as she easily tires of routine and enjoys playing games. The hard-to-read personality alongside her cute appearance makes Kanna a super cute character that everyone falls for!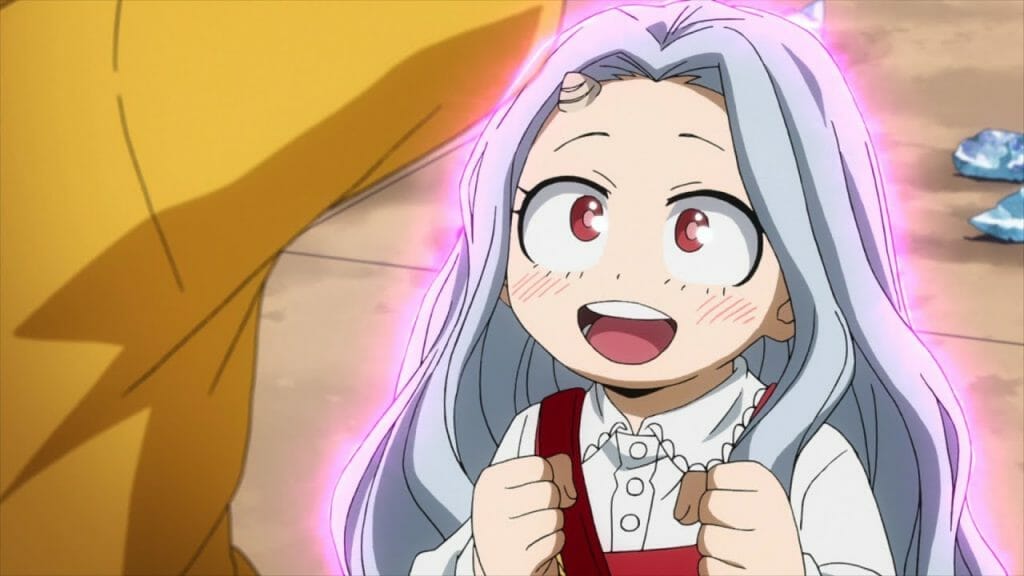 Eri
My Hero Academia
Eri became a fearful and secluded girl after her past, without anyone showing affection to her in her life. Apparently, another character's gentle touch was the first time she ever felt kindness, which overwhelmed Eri and brought tears to her eyes. When murderous intentions are directed towards her, she neither screams nor cries but simply remains silent knowing that she has no choice but to accept her fate.
Yui Hirasawa
K-On!
Yui is the air-headed lead guitarist and vocalist of the band Ho-kago Tea Time. She's always looking for fun; born without stage fright or anxiety, Yui is a huge fan of skinship and is often seen hugging her peers. She loves sweets and is a little lazy and likes to lounge around. This relatable character is definitely one of the most iconic and lovable cute anime characters of all time.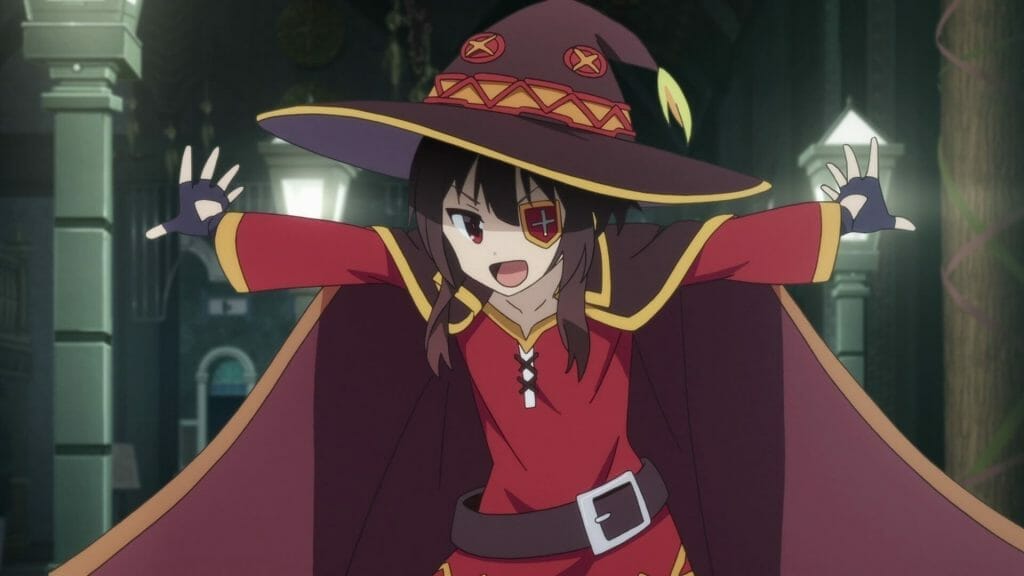 Megumin
KonoSuba
Megumin is a 14-year old boisterous arch wizard. She comes off as cocky at times, but is quick to fall into her true self when she's intimidated. This tough-guy act hits home for a lot of people, and this is shown even more by her hatred of being talked down to because of her age. Her act is very cute, and matches her look perfectly.
Eru Chitanda
Hyouka
Eru is a main character of Classic Literature Club anime series and Hyouka. She is a student at Kamiyama High School and the president of the Classical Literature Club where it is usually her who is responsible for getting the club involved with solving various mysteries. She is ladylike and cheerful, some saying childish. Also, Eru never seems to harbour negative emotions, and with a disposition like that it's hard not to make it into cute territory.
Shuna
That Time I Got Reincarnated as a Slime
Shuna is a gentle and forgiving girl with keen senses. Being raised as a princess she also has a refined and graceful personality. In her introduction, Shuna seemed to be a shy and fearful girl, staying behind other characters. This meek nature always drives people to feel the need to protect, which is probably why people think she is so cute.
Rem
Re:Zero
Rem tends to speak in a superficially polite manner and sometimes acts without thinking. After having awoken from an almost two-year-long slumber, Rem's memories were completely erased. She's very wary of everyone. This position makes her very vulnerable, making people want to protect her. Alongside her cute demeanour, it's no wonder that she's always topping the scales on cute factor.
Tsukasa Hiiragi
Lucky Star
Any fan of 00's anime will recognise this cute anime character immediately. Her personality is naive, innocent and slightly dimwitted. She never seems to get mad (a complete opposite to her sister). Tsukasa is a heavy sleeper and even cannot be woken up by her friends.
Sakura Kinomoto
Cardcaptor Sakura
Sakura is a very energetic and cheerful ten-year-old girl. She often comes across as naïve, clumsy, dense and clueless, but she has her perceptive moments on occasion. Her favorite foods are omelette and noodles with seafood and her favorite recipe is pancakes. She is the perfect heroine for such a successful series.
Taiga Aisaka
Toradora
The tsundere to beat all tsundere, I don't think we need to say much more.
Ruki
Senyuu
Ruki is the 13-year-old Demon King. That's a surprise, right? Don't like this cute anime character's look fool you, she can create portals and is in a position of huge responsibility.
Izumi Sagiri
Eromanga-sensei
Sagiri is depicted as a hikikomori who does not get along with others. She loves drawing and appears to be shy and easily embarrassed. Initially, she cared little for her brother but eventually opens up to him. Sagiri is normally very quiet and tends to use a speaker to be heard, but whenever she's on webcam drawing live, she is more lively (though still careful to hide her face). We think a lot of fans can relate to this anime girl's lifestyle!
Rika Takanashi
Love, Chunibyo & Other Delusions
She is very dramatic and theatrical, claiming to possess the "Tyrant's Eye" which allows her to reveal destinies, even wearing an eye-patch to "seal its' powers". A part of why she is so cute is probably down to how delusional she is, since she comes out with very strange outbursts.
Miku Nakano
The Quintessential Quintuplets
Miku is a silent and reserved girl who has a pessimistic way of thinking and low confidence, even to the point of belittling herself. She can also be also slightly possessive. This may be alarm bells to some, but for many this screams cute!
Mamika Kirameki
Re: Creators
We can't get enough of magical girls, especially when they're as badass as Mamika. She's strong, smart, and look at how cute she is!
Yazawa Nico
Love Live!
Normally, Nico has quite an abrasive personality, but when she takes on her alternate personality, she becomes a happy, upbeat character who is always smiling, often saying her catchphrase, "Nico Nico Nii!". Familiar?

Mio Akiyama
K-On!
Unlike the lead singer we mentioned earlier, Mio is rather bashful by nature. She struggles with social interaction and has few friends outside the music club. Mio is embarrassed easily and takes things to heart. We feel that a lot of people probably relate, which puts her on our list of cute anime characters for sure.
Cutest Anime Boys

Honey (Mitsukuni Haninozuka)
Ouran High School Host Club
Who doesn't love Honey? This member of the Ouran High School Host Club is popular for the fact that he is so incredibly cute. He carries around his stuffed rabbit and thrives off sweets. He's no stranger to tantrums and reminds us truly of a kid! It's not surprising he's one of the most iconic male cute anime characters of all time.
Shoyo Hinata
Haikyuu!
Any fan of Haikyuu will know exactly why Hinata is on this list. Despite being a strong volleyball player and being incredibly headstrong, Hinata is a little airheaded when it comes to anything that isn't volleyball. This airheadedness is quite endearing and lands him in awkward situations more times than not.
Tadase Hotori
Shugo Chara
Being the love interest of the protagonist of the series, it's easy to see how Tadase took that spot. With his long blond hair and pink eyes, his character design is the farthest thing from intimidating. His character is very regal and polite, definitely making for a cute character.
Nagisa Hazuki
Free!
An excellent swimmer with a loud, prankster personality. Nagisa became a fan favorite for his pranks and his small, cute stature. Any fan of the series is likely to agree that Nagisa deserves his spot on this list!
Ciel Phantomhive
Black Butler
Ciel typically dresses in a way that suits his noble standing, and he has an extensive wardrobe. Ciel is a proud, shrewd boy who also happens to be a chess prodigy. Although Ciel may be very different from other cute anime characters on this list, he grew to be so beloved by fans it's difficult not to give him a mention!
Ferris
Re: Zero
Ferris usually refers to himself in third person, calling himself Ferri-chan. Despite his cute appearance (including cat ears), Ferris is quite serious at times and devotes himself to his friends. His strong sense of loyalty with his adorably feminine presentation makes him a shoe-in for cute anime character fans.
Luca Nogi
Gakuen Alice
Luca's cute and soft demeanour is emphasised by the fact his best friend is the school troublemaker. Luca, however is incredibly docile (for the most part) and spends his time with animals.

Aladdin
Magi
Aladdin has a kind and cheerful personality, and as such he is easily able to make friends. He's extremely naive but manages to remain level-headed in dangerous situations. Being only young (15), it's easy to see why so many fans took a liking to him.
Momiji Sohma
Fruit Basket
He is the Rabbit of the Chinese Zodiac. Momiji is depicted as a cute, cheerful, and childlike boy, who is easily mistaken as an elementary school student. Despite his cheerful attitude, he hides a sad family life behind his smile. It's easy to see why so many people took such a liking to this cute anime character!
Gon Freecss
Hunter x Hunter
Gon is an athletic, rustic, and friendly boy who is searching for adventure. He often fails to think things through and seems to have an impulsive nature. His relationship with his best friend is incredibly endearing, and this alongside his boisterous nature makes him very cute.
Mochizou Ooji
Tamako Market
Perfect man alert! Mochizou is a true kind-hearted soul. He is a little shy and timid and has a habit of touching his face when he's nervous. At school, it was often remarked that he was a nerd due to his interest in film society.
Kotaro
Kotaro Lives Alone
A lonely little boy moves into a ramshackle apartment building all on his own and makes friends with the broke manga artist who lives next door. What isn't cute about that?
Zenitsu Agatsuma
Demon Slayer
Although a little underrated at first, Zenitsu has a strong sense to improve himself despite his sensitivities. This type of vulnerability is always a desirable trait in male cute anime characters!
Chihiro Fujisaki
Dangan Ronpa
Originally introduced as girl, it was then revealed that Chihiro is a boy despite dressing as a girl. Chihiro was brave to reveal the secret despite his nerves, and we love him dearly for it!
---
Frequently Asked Questions
Who is the cutest anime character?
It depends on who you ask, but currently Anya Forger seems to be in the lead!
Cutest anime girl?
Once again, Anya is top of the list!

Who is the cutest anime character 2022?
For 2022, it seems that Nezuko is the up and coming star. Although, Kaguya Sama Love Is War definitely has been rising in popularity for some of its cute characters, especially Student Council member Kaguya!
Who is the cutest anime boy?
Call us biased, but Nagisa from Free! stole our hearts with his charm.
What is a best girl in anime?
A 'best girl' is a female character in an anime or video game series that is subjectively chosen to be the 'best.' The term 'best girl' refers to the opinion of a collective fan base that this character is in a league of their own.