It's no secret that character design plays a huge role in the personalities of our favorite anime characters! With so many fun and diverse characters to choose from, let's take a look at the internet's 40 most Iconic Black Haired Anime Characters of All Time!
Watch Anime Now: Crunchyroll | Funimation | Hulu | Netflix
Table of Contents [CLICK HERE TO OPEN]
Black-Haired Anime Girls
Yui
Sword Art Online
Yui is a top-down Artificial Intelligence (AI) program that was originally developed to address player mental health concerns in Sword Art Online (SAO).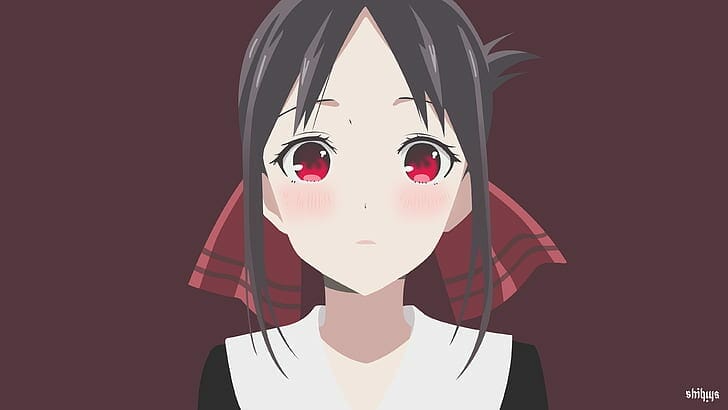 Shinomiya Kaguya
Kaguya-sama: Love is War (Kaguya-sama wa Kokurasetai)
Kaguya is a beautiful, fair-skinned young girl with long black hair that is usually tied by a black-red ribbon. This black haired anime character is the main protagonist and the titular character of the series.
Kousaka Reina
Hibike! Euphonium
This first-year trumpet player of the Kitauji High School Concert Band is quiet but very passionate about music. Her dark hair is representative of how others may perceive her: cold and surly.
Kuchiki Rukia
Bleach
Any fan of Bleach will remember this black haired anime character fondly. She has been through a very difficult history involving the Soul Society and struggles to make friends. Furthermore, this rabbit-obsessed character grew to be a fan favorite.

Akemi Homura
Puella Magi Madoka Magica (PMMM)
With black hair to match her personality, Homura is intelligent, athletic and very different because she has suffered so much as a Magical Girl. Moreover, she tries to prevent her friends falling into this life.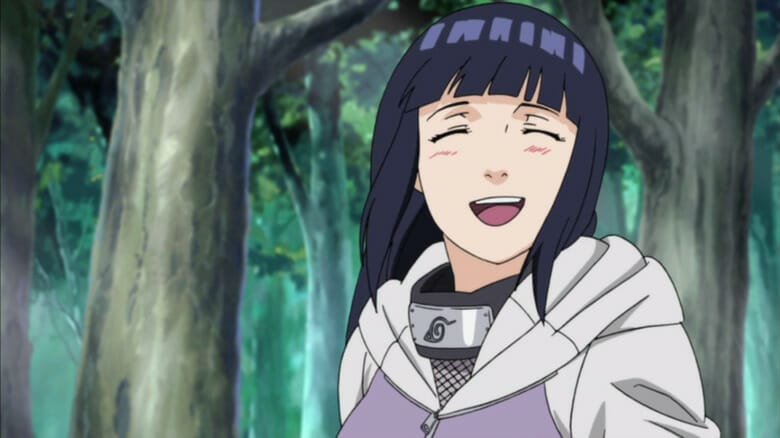 Hinata Hyuga
Naruto
Hinata of the Hidden Leaf Village won over fans with her genuine shy personality and her cute crush on Naruto. Luckily this black haired anime cutie then proved herself with her skill and ended up marrying her crush!
Nezuko
Demon Slayer: Kimetsu no Yaiba
As a human, Nezuko was a kind and caring girl, who thought of others before herself much like her older brother, Tanjiro, and was a responsible older sister to her younger siblings. Nezuko is, however, not afraid to get in harm's way, protecting her friends from Demons even after being returned to a human state. This gentle persona despite her having occasionally turned into a demon makes her a fan-favorite.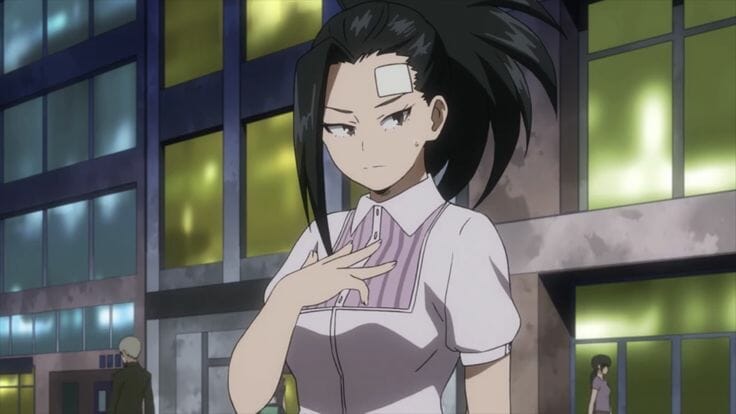 Yaoyorozu Momo
My Hero Academia (Boku no Hero Academia)
Momo is one of the main heroines of the series. Her dark eyes match her dark hair color and she's usually wearing a determined expression.
Sonohara Anri
Durarara!
Her timid personality carries over online, where her chat screen name is "Saika." This timid demeanor stems primarily from the trauma she received when her parents died. This black haired anime character carries the 'shy-girl' vibe that dark hair seems to stereotype.
Sunohara Mei
Clannad
This nosy character is a direct opposite of her brother's. She cares for her brother a lot but will not relent on playing cupid. This character's black hair is tied into adorable pigtails.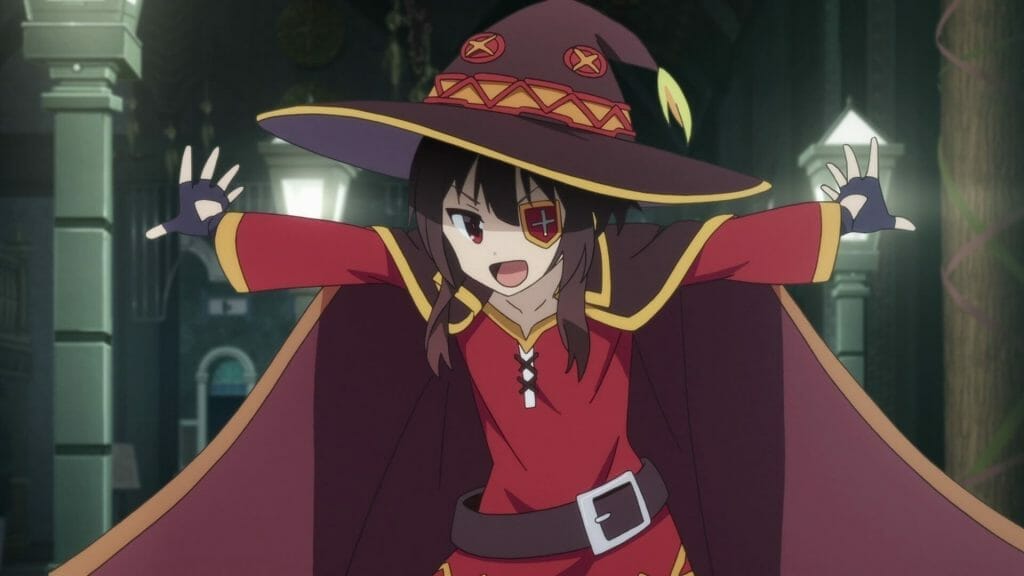 Megumin
KonoSuba
Megumin is a 14-year old boisterous arch wizard. She comes off as cocky at times, but is quick to fall into her true self when she's intimidated. This tough-guy act hits home for a lot of people, and this is shown even more by her hatred of being talked down to because of her age. Her act is very cute, and matches her look perfectly.
Eru Chitanda
Hyouka
Eru is a main character of Classic Literature Club anime series and Hyouka. She is a student at Kamiyama High School and the president of the Classical Literature Club where it is usually her who is responsible for getting the club involved with solving various mysteries. She is ladylike and cheerful, some saying childish. Also, Eru never seems to harbour negative emotions, and with a disposition like that it's hard not to make it into cute territory.
Hino Rei
Sailor Moon
Despite this image, Rei strongly dislikes relationships and men. She's remained fairly static and serious and grew to have this mysterious nature.
Hanekawa Tsubasa
Monogatari
She is known at school as an overachiever and model student who is admired by many. However, hidden by her achievements in school and her kind personality is a tense family life caused by unfortunate circumstances. She was bewitched by an oddity and gave birth to an alternate self.
Kiryuuin Satsuki
Kill la Kill
This may be one of the most memorable black haired anime characters. A tall, slim woman with long black hair, Satsuki is a prideful woman. She is intelligent and iron-fisted.
Mikasa Ackerman
Attack on Titan (Shingeki no Kyojin)
It may be difficult to meet an anime fan who doesn't recognise this black-haired anime character. Mikasa only wanted a peaceful life but followers her friend to the survey corps, where has proved herself as one of their best soldiers.
Ryuko Matoi
Kill la Kill!
Ryuko Matoi is the main protagonist of Kill la Kill. This black haired anime character is stubborn and fierce and carries her dark hair with a lot of iron will.
Yumeko Jabami
Kakegurui
It wouldn't be a list of iconic black haired anime characters without this one. You may recognise her from her explosive popularity on Tik Tok. She is unwavering in her confidence and only gets excited by taking risks, even those which rely only on luck.
Kurome
Akame ga Kill!
Kurome is a former member of the Jaegers. The two parted ways when she and her sister were went to different assassin groups. She seems much more aloof than her sister and has absolutely no qualms killing enemies.
Rika Takanashi
Love, Chunibyo & Other Delusions
She is very dramatic and theatrical, claiming to possess the "Tyrant's Eye" which allows her to reveal destinies, even wearing an eye-patch to "seal its' powers". A part of why she is so cute is probably down to how delusional she is, since she comes out with very strange outbursts.
Akane Tendo
Ranma 1/2
This list may get a little vintage now, but Akane can't be forgotten! As the deuteragonist of the hugely popular classic anime Ranma 1/2 – it's only fair that this tomboy gets her spot on the list.
Maki Oze
Fire Force
Despite being physically strong and very determined at her job, Maki is a hopeless romantic and fairly sensitive at heart. She is even afraid of the dark!
Yazawa Nico
Love Live!
Normally, Nico has quite an abrasive personality, but when she takes on her alternate personality, she becomes a happy, upbeat character who is always smiling, often saying her catchphrase, "Nico Nico Nii!". Familiar?

Mio Akiyama
K-On!
Unlike the lead singer we mentioned earlier, Mio is rather bashful by nature. She struggles with social interaction and has few friends outside the music club. Mio is embarrassed easily and takes things to heart.
Black Haired Anime Boys
Kageyama Tobio
Haikyuu!
Kageyama is an extremely skilled setter at the Karasuno High School volleyball club. Kageyama seems to be a snooty perfectionist at first glance but we later come to see he's much more socially unintelligent than expected.
Tetsuro Kuroo
Haikyuu!
Kuroo is the captain and middle blocker of Nekoma High volleyball team. He is catlike and cunning. This black haired anime character ended up being a fan favorite by far, with fans swooning over his cunning and flirty personality.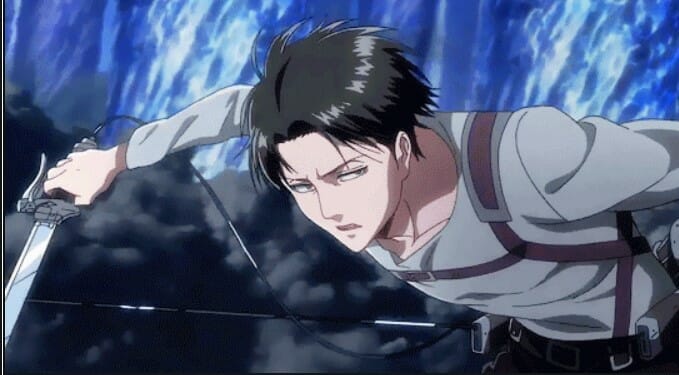 Levi Ackerman
Attack on Titan (Shingeki no Kyojin)
Levi is the squad captain of the Special Operations Squad. Many call him Humanity's Strongest Soldier. Furthermore, his complex character arc earned this black haired anime character a top spot on Attack on Titan fans' character lists!
Yato
Demon Slayer (Kimetsu no Yaiba)
Yato is an obscure god who aims to become the God of Fortune. His cat-like bright blue eyes and his striking dark hair make him a very memorable character.
Rin Okumura
Blue Exorcist
Despite being the son of Satan – Rin desires to become a Knight and rightfully kill his biological father. Fans adore this character for his fun character design and goofy personality.
L
Death Note
L is a world-renowned detective who takes on the challenge of catching the mass murderer known as Kira. However, in his investigation, L becomes suspicious of Light and makes it his goal to prove that he is Kira.
Kaneki
Tokyo Ghoul
Kaneki has had a very long and difficult storyline, earning himself many battle scars and even more mental scars. Additionally, his signature eyepatch look complements his design greatly and earns himself on the list of iconic black haired anime characters.
Sebastian Michaelis
Black Butler
Sebastian is the demon butler of the Phantomhive household. He is entirely devoted to Ciel and dutifully carries out all of Ciel's orders. Moreover when Ciel tells him to attack enemies.
Haruka Nanase
Free!
At first glance, Haruka seems to adhere to the cold mysterious black haired anime character stereotype. However, his 'cold' personality is actually just Haruka zoned out fantasising about swimming.
Monkey D. Luffy
One Piece
Everyone knows this character – even those who arent One Piece fans. Bold, brazen, and a little ridiculous, Monkey D. Luffy has fell into everyone's hearts!
Death the Kid
Soul Eater
If we're talking about the interesting design of black haired anime characters, there's no way we can leave Death the Kid off this list.
Eiji Okumura
Banana Fish
Eiji deuteragonist of the series. Arriving in New York, he gets caught up in ongoing events and helps Ash Lynx as he uncovers the mystery surrounding banana fish. He refuses to head back to the safety of his home country of Japan.
Rock Lee
Naruto
Despite his … interesting character design making him somewhat of a meme, Rock Lee might actually be one of the strongest characters in the entire franchise!
Goku
Dragon Ball Z
There isn't much to say about Goku that isn't already common knowledge. Let it be known that we're talking about his non-super Saiyan form on this list.
Jotaro Kujo
JoJo's Bizarre Adventure
Jotaro is a delinquent who lives an ordinary life until the Joestar Family's old enemy returns. Jotaro travels to Egypt in order to save his mother and stop the Vampire once and for all.
---
Frequently Asked Questions
Who is the most famous black haired anime character?
This is a difficult one! As a result, we can only try to narrow it down to our top 5!
Goku
Rock Lee
Ryuko Matoi
Mikasa Ackerman
Kageyama Tobio
What anime has a girl with black hair and red eyes?
TikTok trends often leave us with more questions than answers, however, you're probably talking about Yumeko Jabami!

What anime is Kaguya?
Kaguya Sama Love Is War definitely has been rising in popularity for some of its fun characters, especially Student Council member Kaguya!
Who is the most powerful anime character?
On this list we're definitely going to have to go with reliable Goku!
---