The Voyager novel is the third instalment in Diana Gabaldon's epic 10-novel Outlander series. This instalment in the series is all about finding identity. Who is Claire? Who is Jamie? Separated for the first half of the novel, this book comes together in an epic historical fiction set in the Caribbean featuring murder, politics, pirates, voodoo, and all sorts of epic tales!
Table of Contents [CLICK HERE TO OPEN]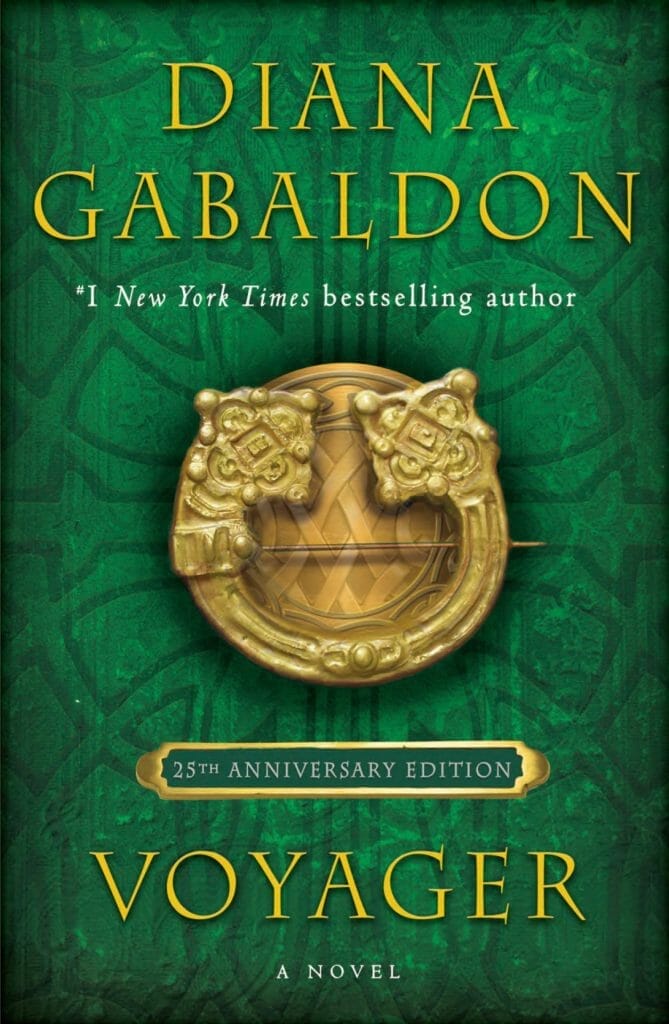 Voyager
In this rich, vibrant tale, Diana Gabaldon continues the story of Claire Randall and Jamie Fraser that began with the now-classic novel Outlander and continued in Dragonfly in Amber. Sweeping us from the battlefields of eighteenth-century Scotland to the West Indies, Diana Gabaldon weaves magic once again in an exhilarating and utterly unforgettable novel.

He was dead. However, his nose throbbed painfully, which he thought odd in the circumstances.

Jamie Fraser is, alas, not dead—but he is in hell. Waking among the fallen on Culloden Field, he is concerned neither for his men nor his wounds but for his wife and their unborn child. Lord, he prayed passionately, that she may be safe. She and the child. It's a prayer he'll utter many times over the next twenty years, never knowing but always hoping that Claire made it through the standing stones, back to the safety of her own time.

Safe she is, but believing Jamie gone forever, she's obliged to live without a heart, her only comfort their daughter, Brianna. But now, their daughter grown, she discovers that Jamie survived, and a fateful decision lies before her: Stay with her beloved daughter, or go back to search Scotland's dangerous past for the man who was her heart and soul, sustained only by the hope that they will still know each other if she finds him.
"The most irritating thing about cliches, I decided, was how frequently they were true."

Diana Gabaldon, Voyager
Our Overview (Spoilers!) of Voyager
1746
The Battle of Culloden is finished. Jamie Fraser, despite having a broken nose and injured leg, is still alive. So he and some of his wounded men take refuge in a farmhouse where they stay until English soldiers discover them.
Jamie has accepted his fate as he watches his men executed, but when his turn comes the soldier recognises his name and thankfully sends him back to Lallybroch. The soldier, Lord Melton, is the brother of Lord John William Grey, whose life Jamie had graciously spared in the previous novel.
1753
After seven years of living in a cave and endangering his family, Jamie makes a plan. He tells one of his tenants 'betray' him and take him to the English and take the reward money. He is then arrested and sent to Ardsmuir prison.
1968
Back in the 20th century, Claire finds that Jamie did not die in the Battle of Culloden from friend Roger MacKenzie. She sets about in doing some historical research to find out more about Jamie's life following the battle. She finds two Highland legends which may refer to her lover.
1755
Back in the 18th century, Lord John Grey is posted to oversee Ardsmuir Prison. Lord Grey is pleased to see Jamie again and invites him to regular dinners and games. For Jamie, this odd friendship allows him to try and resolve prisoner issues.
The majority of prisoners are then sent to America as servants. Due to their bond, Lord Grey spares Jamie and has him sent to an estate in Helwater in England.
In Helwater, Jamie finds himself in conversation with some of the family there. The eldest daughter at Helwater is to be married to an elderly Earl – the thought revolts her. She blackmails Jamie into taking her virginity before her wedding so that she cannot be wed.
Geneva falls pregnant with Jamie's child and tragically dies in childbirth. The Earl pronounces the baby, William, as a bastard and threatens to throw the child out the window. Jamie rushes in and shoots the Earl. Geneva's sister Isobel and her mother raise baby William alongside Jamie.
When the dissimilarities between the family and Jamie become too much to ignore, the family graciously give him a pardon and allow him to return to his life.
1765
Claire returns to the past. She reunites with husband Jamie Fraser in his Print Shop. After meeting with some friends, Jamie's nephew is almost killed in a fire. Young Ian admits that he had set the fire that almost killed him as he tried to conceal Jamie's latest political printing order.
Jamie, Claire and Young Ian return to Lallybroch. Young Ian, after setting out to collect the family treasure, is captured by pirates.
Jamie and Claire manage to get passage on a ship, The Artemis. In the middle of the Atlantic, a British ship comes to the Artemis begging for medical aid. The crew of the British ship has been plagued with Typhoid and Claire dutifully comes to their aid.
After being captured, Claire jumps overboard. After some trouble, eventually Claire and Jamie are reunited.
Eventually returning to something akin to safety, Claire and Jamie attend a ball hosted by Lord Grey. There, Claire discovers a body of a young woman. Set out to help find the culprit, Jamie and Claire attend a slave gathering where they summon spirits using a sick woman as a vessel. Suddenly, Claire hears her daughter's voice who tells Claire and Jamie that she loves them.
Jamie, Claire and Lawrence Stern travel to a mysterious cave, Abandawe. Deep inside the cave is a rip in time. Young Ian is bound and gagged, ready to be sacrificed to find Brianna and fulfil the prophecy. Claire attacks the perpetrator and the group set to escape on the Artemis but are wrecked in a storm and are washed ashore in Georgia.
Our Review of Voyager
Gabaldon spun a new take on the Outlander series with the Voyager novel.
In the Voyager novel, we really get a better sense of who Claire and Jamie actually are as people. Forced apart for 20 years forces the two to grow and change independently. It really adds to the poignancy and the true nature of their everlasting love for each other.
Claire and Jamie prayed for each other during their separation and their reunion is one of our favourite moments in the entire series so far. Not to mention Jamie was immediately dedicated to Claire, even after two decades!
The Voyager novel definitely is crammed with a lot more twists and turns than the previous books in the Outlander series. There is a heavier focus on the surrealism of historical fantasy, with all the time-travelling and voodoo and such.
At times, this book felt a little out of place in the series but after twenty years apart, we feel that the madness that follows is a pretty good visualisation of how Claire and Jamie feel on the inside. It seems like there's nothing that Gabaldon can't do!
Our rating: ★★★★☆
---
Frequently Asked Questions
Is the Voyager novel the third Outlander book?
It is! Here are all the books in the Outlander series in order:
Outlander (Cross Stitch in UK, NZ, and AUS)
Dragonfly in Amber
Voyager
Drums of Autumn
The Fiery Cross
A Breath of Snow and Ashes
An Echo in the Bone
Written in My Own Heart's Blood
Go Tell the Bees That I Am Gone
[UNTITLED]
As you can see, the last book is still underway with no working title.
Is Voyager on Netflix?
All the latest seasons of Outlander are available on Starz. Seasons 1-5 (including seasons 3, which is based on the Voyager novel) is available on Netflix. However, it may not be available depending on your region!
Which chapter in the Voyager novel does Claire go back to Jamie?
Claire and Jamie reunite in Outlander Book 3, Chapter 52.
How did Claire know Jamie was alive?
Claire discovers documents: the Deed of Sasine that Claire had signed feeding Lallybroch to Young Jamie and a handwritten draft of something published by an Alexander Malcolm in Edinburgh, 1765. Comparing the handwriting, Claire knows that Alexander Malcolm is indeed Jamie Fisher. This means that Jamie is still alive at 44 and did not die in the battle.
What do you think of Voyager? Let us know!