The Outlander Books inspire the hit Starz show so if you love the TV series but haven't caught up with the books as yet then we have put together this guide of The Outlander Books in order to get you started!
Table of Contents [CLICK HERE TO OPEN]
Outlander Overview
The Outlander books are an ongoing series, started in 1991 by the author Diana Gabaldon. Now, its on book nine which was released on the 23rd of November 2021. The general premise of the series is an English combat nurse from 1946 is suddenly transported back in time to 1743. Diana got inspiration for the Outlander books from watching The War Games, a classic Doctor Who serial. Her attention was captured by the young Scot, Jamie McCrimmon, living in 1745, who she named her male protagonist after. Diana had intended to write a straight-up historical novel, but when the female protagonist, Claire, began having a more modern flair, Diana decided to make Claire a modern woman living in 1743.
The Outlander books mix together several different genres, particularly: historical fiction, romance, adventure and fantasy. Outlander rose to popularity and ended up selling 25 million copies worldwide, hence making Outlander one of the best selling book series of all time.
TV Show Based – About Outlander Series
A Starz TV show adaption of the books was made in 2014, with a total of five seasons currently and it has been renewed for two more. Each season is based on its respective book, so season one is based on book one, etc. It stars: Sam Heughan as Jamie Fraser, Caitriona Balfe as Claire Beauchamp, Sophie Skeleton as Brianna Randall, Tobias Menzies as Frank Randall/Jonathan Randall, Graham McTavish as Dougal MacKenzie/William MacKenzie, and Richard Rankin as Roger Wakefield. Season one was generally well-received, gaining a 93% on review aggregate site Rotten Tomatoes, with one critical consensus saying that: "Outlander is a unique, satisfying adaptation of its source material, brought to life by lush scenery and potent chemistry between its leads". The rest of the seasons have been consistently well reviewed and viewing figures have also remained stable.
Outlander Books In Order (Reading Order) (WARNING: SERIES SPOILERS AHEAD)
The following is the correct reading order for the Outlander Books, so here are The Outlander Books in chronological order:
Outlander – Book One
It's the year 1946, just after World War 2. So combat nurse Claire heads to the Scottish Highlands with her husband Frank. The plan is for it to be a second honeymoon, to reignite the love. But suddenly, Claire is no longer in 1946. It's now 1743. And the first person she meets is a British army officer. Who is also her husband's six-times great-grandfather.
Whilst trying to escape Black Jack Randall, who is nothing like his descendant, she finds herself captured by a gang of Scottish outlaws. Her only chance of safety lies in Jamie Fraser, a gallant Scot warrior.
Dragonfly In Amber – Book Two
For twenty years, Claire has kept her secrets. Now, she is returning to the Scottish Highlands with her grown daughter. Here, Claire plans to reveal the truth of what happened to her. And the secrets that the mist-shrouded hills hold. The ancient circle of standing stones, a love that transcends the boundary of time, and the gallant Scot.
In the meantime, Claire needs to try to stop the Jacobite rising from happening. Because if it does, she could lose her daughter or the man that she loves.
Voyager – Book Three
Jamie lies on the battlefield in Culloden. Wounded, he faces two options: imprisonment or execution. Either would lead to the same end, his wife would be gone.
In 1746, Claire makes a journey through time to protect their unborn child. Even if it means leaving Jamie to die. In 1968, Claire discovers that Jamie didn't actually die on the battlefield. But where is Jamie now?
Drums of Autumn – Book Four
Claire travels back in time again to reunite with Jamie. But this time in frontier America. Also Claire has left something behind in her time – their daughter Brianna.
Now Brianna has made a disturbing discovery that sends her to the stone circle and a terrifying leap into the unknown. In search of her mother and the father she has never met, she risks her own future to try to change history – and to save their lives.
The Fiery Cross – Book Five
1771: the Colony of North Carolina stands in an uneasy balance, with the rich, colonial aristocracy on one side and the struggling pioneers of the backcountry on the other.
Between them stands Jamie Fraser, a man of honour, a man of worth. Exiled from his beloved Scotland, he is at last possessed of the land he has longed for. By his side his extraordinary wife, Claire, a woman out of time and out of place, blessed with the uneasy gift of the knowledge of what is to come.
A Breath of Snow and Ashes – Book Six
It's 1772, the Royal Colony of North Carolina, and the governor calls upon Jamie Fraser to unite the backcountry and preserve the colony for King and Crown.
Although there's one minor problem: Jamie Fraser's wife, Claire, is a time-traveller, as are his daughter and son-in-law. And Jamie knows that three years hence, the shot heard round the world will be fired, and the end of it all will be independence – with those loyal to the King either dead or in exile.
An Echo in the Bone – Book Seven
The year is 1777. And the place is North Carolina. As the American rebellion grows in intensity, Highlander Jamie Fraser and his wife Claire need to decide which side their family is going to be on.
So in theory, the choice should be an easy one, given that Claire was born in the twentieth century and has already seen the future – in history books. But things are never simple where the Frasers are concerned, as father and son unwittingly come face to face on the battlefield, and an old adversary reaches forward in time to threaten the next generation.
Written In My Own Heart's Blood – Book Eight
It is June 1778, and the world seems to be turning upside-down. The British Army is withdrawing from Philadelphia, with George Washington in pursuit, and for the first time, it looks as if the rebels might actually win.
But for Claire Fraser and her family, there are even more tumultuous revolutions that have to be accommodated. Her former husband, Jamie, has returned from the dead. And this time he's demanding to know why in his absence she married his best friend, Lord John Grey.
Go Tell the Bees That I Am Gone – Book Nine
Jamie Fraser and Claire Randall were torn apart by the Jacobite Rising in 1746, and it took them twenty years to find each other again. Now the American Revolution threatens to do the same.
It is 1779 and Claire and Jamie are at last reunited with their daughter, Brianna, her husband, Roger, and their children on Fraser's Ridge. However, having the family together is a dream the Frasers had thought impossible.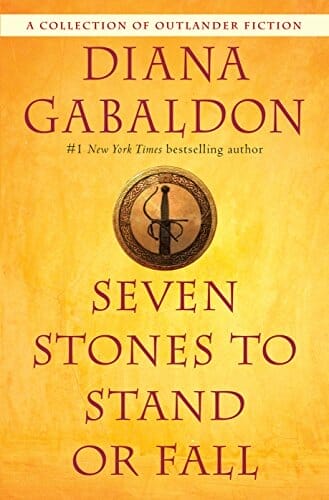 Seven Stones to Stand or Fall: A Collection of Outlander Fiction
A magnificent collection of Outlander short stories —including two never-before-published novellas—featuring Jamie Fraser, Lord John Grey, Master Raymond, and many more, from Diana Gabaldon

"The Custom of the Army," which begins with Lord John Grey being shocked by an electric eel and ends at the Battle of Quebec.
"The Space Between," where it is revealed that the Comte St. Germain is not dead, Master Raymond appears, and a widowed young wine dealer escorts a would-be novice to a convent in Paris.
"A Plague of Zombies," Lord John unexpectedly becomes military governor of Jamaica when the original governor is gnawed by what probably wasn't a giant rat.
"A Leaf on the Wind of All Hallows" is the moving story of Roger MacKenzie's parents during World War II.
In "Virgins," Jamie Fraser, aged nineteen, and Ian Murray, aged twenty, become mercenaries in France, no matter that neither has yet bedded a lass or killed a man. But they're trying. . . .
"A Fugitive Green" is the story of Lord John's elder brother, Hal, and a seventeen-year-old rare book dealer with a sideline in theft, forgery, and blackmail. And finally, in "Besieged," Lord John learns that his mother is in Havana—and that the British Navy is on their way to lay siege to the city.

Filling in mesmerizing chapters in the lives of characters readers have followed over the course of thousands of pages, Gabaldon's genius is on full display throughout this must-have collection.
Frequently Asked Questions
In what order should you read the Outlander books?
The order which you should read the Outlander books is as follows:
Outlander
Dragonfly In Amber
Voyager
Drums Of Autumn
The Fiery Cross
A Breath of Snow and Ashes
An Echo In The Bone
Written In My Own Heart's Blood
Go Tell the Bees That I Am Gone
What are the eight books in the Outlander series?
There are nine books in the Outlander series and they are as follows:
Outlander
Dragonfly In Amber
Voyager
Drums Of Autumn
The Fiery Cross
A Breath of Snow and Ashes
An Echo In The Bone
Written In My Own Heart's Blood
Go Tell the Bees That I Am Gone
Is book 9 of Outlander the last book?
Book 9 of Outlander is the last book that was released but it isn't the last Outlander book as there will be another, as yet untitled, 10th book.
What is book 7 in the Outlander series?
Book 7 in the Outlander series is An Echo In The Bone.
How many books make up the Outlander series?
There are currently nine books in the Outlander series, they are as follows:
Outlander
Dragonfly In Amber
Voyager
Drums Of Autumn
The Fiery Cross
A Breath of Snow and Ashes
An Echo In The Bone
Written In My Own Heart's Blood
Go Tell the Bees That I Am Gone
Will there be a book 10 of Outlander?
Yes, there will be a book 10 of Outlander. The 10th book is as yet untitled and there is no release date available yet but a book is definitely in the works.
What is book 9 in the Outlander series?
Book 9 in the Outlander series is Go Tell The Bees That I Am Gone.
Have you read the Outlander Books? Let us know your thoughts!