The Wicked King, by Holly Black, is a young adult fantasy novel that brings mythology and folklore to a contemporary audience. It is the second novel in the Folk of Air trilogy, following The Cruel Prince and preceding The Queen of Nothing. The Wicked King was a finalist for both the Lodestar Award and the Locus Award in 2020 and won the Goodreads Best Book Award for Young Adult Fantasy in 2019.
A much-beloved series can be daunting to approach. With The Wicked King boasting such complex characters and a core fantasy element wrought with lies and deception, it might be difficult to get to the bottom of it. Luckily, we're here to tell you everything you need to know about The Wicked King!
Table of Contents [CLICK HERE TO OPEN]
About The Wicked King
The Wicked King – Holly Black
After the jaw-dropping revelation that Oak is the heir to Faerie, Jude must keep her brother safe. To do so, she has bound the wicked king, Cardan, to her, and made herself the power behind the throne. Navigating the constantly shifting political alliances of Faerie would be difficult enough if Cardan were easy to control. But he does everything in his power to humiliate and undermine her even as his fascination with her remains undiminished.
When it becomes all too clear that someone close to Jude means to betray her, threatening her own life and the lives of everyone she loves, Jude must uncover the traitor and fight her own complicated feelings for Cardan to maintain control as a mortal in a Faerie world.
Full Synopsis
Five months after engineering a coup, human teen Jude is starting to feel the strain of secretly controlling King Cardan and running his Faerie kingdom. Jude's self-loathing and anger at the traumatic events of her childhood (her Faerie "dad" killed her parents, and Faerie is not a particularly easy place even for the best-adjusted human) drive her ambition, which is tempered by her desire to make the world she loves and hates a little fairer.
Much of the story revolves around plotting (the Queen of the Undersea wants the throne; Jude's Faerie father wants power; Jude's twin, Taryn, wants her Faerie betrothed by her side), but the underlying tension—sexual and political—between Jude and Cardan also takes some unexpected twists. Black's writing is both contemporary and classic; her world is, at this point, intensely well-realized, so that some plot twists seem almost inevitable. Faerie is a strange place where immortal, multihued, multiformed denizens can't lie but can twist everything; Jude—who can lie—is an outlier, and her first-person, present-tense narration reveals more than she would choose. With curly dark brown hair, Jude and Taryn are never identified by race in human terms. (-Kirkus Review)
Detailed Description
Cardan, the High King of Faerie, acclimatizes to his new role. He makes his friend Locke his Master of Revels. His advisor, Jude, goes to see Caran's brother in prison and they discuss his messages for Cardan which have been intercepted by Jude. Jude then meets in the Court of Shadows and interrogates one of the prison guards. Taryn, Jude's twin sister, invites Jude to her wedding.
Jude then learns that Cardan has been attacked. She follows clues that lead to his ex, Nicasia, who wanted to kill his new lover. Nicasia confessed that her mother, the Queen of the Undersea, wants Cardan and Nicasia to get married. Jude then goes to a council meeting with her foster father and other councilmen. They ignore her when she warns them of the Queen's plans.
Jude searched Cardan's rooms for traps. When Jude arrives home, Taryn is in her room. She asks Jude for help to get Locke out of his role of the Master of Revels as she worries that it is tearing the two apart.
Locke tries to embarrass Jude by crowning her the 'Queen of Mirth'. People from the Undersea arrive at the party to deliver a message which rightfully threatens Cardan's life if he doesn't marry Nicasia. After some discussion, the council plan to use Jude's younger brother, Oak, as bait to lure out the Undersea.
Jude goes to Locke and threatens to take revenge for the whole 'Queen of Mirth' stunt. She demands that he collect himself and become a better person. The next day, she goes to the mortal world to pick up her siblings, Oak and Vivi, as well as Vivi's girlfriend, for the wedding. Vivi and Oak reveal their faerie magic to Heather. Cardan then learns from Nicasia that the Sea Queen will attack during the wedding and Balekin tries to convince Cardan to free him from prison.
Jude is attacked, although she survives she is injured. At the wedding, Jude finds Heather, who has been enchanted and left scared and vulnerable. Jude manages to reverse the spell and Vivi enchants Heather to forget. Jude learns that Locke had something to do with her attack. She feels betrayed and is then taken to the Underworld.
The Queen, Nicasia and Balekin enchant Jude to do whatever they say, not realising she is immune to such spells. Jude plays along to try and get control of the situation. After a month, she is released where she is commanded to kill Cardan. She is given a vial of poison to sneak to Cardan. She sneaks into Cardan's room to tell him what happened.
At the ball, Jude confronts Locke. Cardan arrives unwell and Jude realises he has been poisoned. Balekin attempts to frame Jude. Balekin offers an antidote in exchange for the crown. Jude meets with him and secures the antitode before killing him. When she returns to Cardan, she realises that her twin sister had pretended to be Jude to ask Cardan to release Madoc from his duties.
The Queen of the Undersea arrives asking for Balekin's murderer. Cardan uses his magic to subdue him. However, he betrays Jude after asking for her hand in marriage by exiling her to the mortal world for the murder. Jude goes to live with her siblings.
Our Review
Once again, Holly Black proves herself in taking a dark, twisted approach to the YA fantasy genre. The Wicked King is a strong followup from the solid foundation of The Folk of Air series, The Cruel Prince. The titles certainly reflect the book! Jude isn't the typical heroine, she's a little scheming, is no stranger to a little manipulation and at times it's even difficult to root for her entirely. Her character is lovable and hateable – but no matter what side of the fence you're on, one thing is certain. You're going to be addicted.
Filled with politics that aren't too convoluted to follow, twists and turns which aren't predictable nor entirely out of left field, high fantasy which is just the right amount of magical – The Wicked King is an addictive read. Each character has a mean streak; there is a time in the book for every character where they showcase a dark side to the reader. This act of three-dimensionalising characters is at the core of what makes The Wicked King so great.
If you love characters with depth, anti-heroes and deception at every corner – you'll love The Wicked King.
---
Frequently Asked Questions
Is there romance in The Wicked King?
Whilst the main genre of The Wicked King is fantasy, there is still some romance in there! So, if you like your fantasy with a bit of romance, then this series will be perfect.
Does The Wicked King have a series?
Yes. The Wicked King is the second book in The Folk of Air series. The series includes: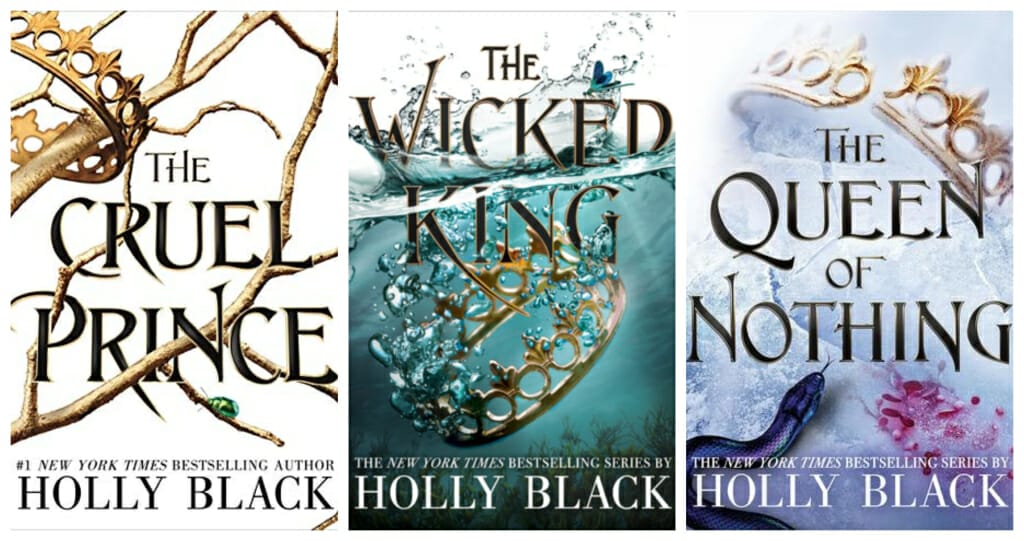 The Cruel Prince
The Wicked King
The Queen of Nothing
Although, there are some sister books which are not a part of the core trilogy, but perfect for people who need a little bit more of their Holly Black fix! These are The Lost Sisters and How the King of Elfhame Learned to Hate Stories.
Is The Wicked King good?
We certainly think so – but don't just take our word for it. Go out there and read it for yourself!
Is The Wicked King LGBT?
Yes, there is LGBT in The Wicked King. There is gay, bisexual and trans representation throughout the novels.
Is The Wicked King better than The Cruel Prince?
It's a little hard to compare, and it is entirely up to what the reader values in their novels. Personally, I liked the fast-paced deception and lies of The Wicked King. It's a little darker in terms of how the characters really start to show their darker sides and play games with one another.
What did you think of The Wicked King? Let us know!