In the vast cosmos of science fiction literature, one subgenre stands out for its rigorous adherence to scientific principles and speculative extrapolation. These make the Best hard Sci Fi books. These books boldly venture into the uncharted territories of scientific possibility, offering readers a thought-provoking blend of intellectual stimulation and captivating storytelling.
From the intricacies of interstellar travel to mind-bending quantum physics, these books present a spectrum of scientific ideas that will captivate both dedicated science enthusiasts and curious minds alike. Immerse yourself in hard science fiction's intellectual playground, where rigorous research and scientific speculation coalesce to form gripping tales that bridge the gap between the known and the yet-to-be-discovered.
Are you ready to explore the cosmos? Check out 29 of the Best Hard Sci Fi Books!
Table of Contents [CLICK HERE TO OPEN]
Best Hard Sci Fi Books
Step into a world where scientific accuracy and plausibility reign supreme, as celebrated authors weave narratives rooted in scientific principles, while inviting readers to ponder the ethical, societal, and existential implications of our ever-advancing technological age. We'll look at the best of the best hard sci fi books!
The Complete Robot – Isaac Asimov
In these stories, Asimov creates the Three Laws of Robotics and ushers in the Robot Age – when Earth is ruled by master-machines and when robots are more human than mankind.
The Complete Robot is the ultimate collection of timeless, amazing and amusing robot stories from the greatest science fiction writer of all time, offering golden insights into robot thought processes. Asimov's Three Laws of Robotics were programmed into real computers thirty years ago at the Massachusetts Institute of Technology – with suprising results. Readers of today still have many surprises in store…
We Are Legion – Dennis Taylor
Bob Johansson has just sold his software company and is looking forward to a life of leisure. There are places to go, books to read, and movies to watch. So it's a little unfair when he gets himself killed crossing the street.
Bob wakes up a century later to find that corpsicles have been declared to be without rights, and he is now the property of the state. He has been uploaded into computer hardware and is slated to be the controlling AI in an interstellar probe looking for habitable planets. The stakes are high: no less than the first claim to entire worlds. If he declines the honor, he'll be switched off, and they'll try again with someone else. If he accepts, he becomes a prime target. There are at least three other countries trying to get their own probes launched first, and they play dirty.
Rainbows End – Vernor Vinge

Robert Gu is a recovering Alzheimer's patient. The world that he remembers was much as we know it today. Now, as he regains his faculties through a cure developed during the years of his near-fatal decline, he discovers that the world has changed and so has his place in it. He was a world-renowned poet. Now he is seventy-five years old, though by a medical miracle he looks much younger, and he's starting over, for the first time unsure of his poetic gifts.

With knowledge comes risk. When Robert begins to re-train at Fairmont High, learning with other older people what is second nature to Miri and other teens at school, he unwittingly becomes part of a wide-ranging conspiracy to use technology as a tool for world domination.
2312 – Kim Stanley Robinson
The year is 2312. Scientific and technological advances have opened gateways to an extraordinary future. Earth is no longer humanity's only home; new habitats have been created throughout the solar system on moons, planets, and in between. But in this year, 2312, a sequence of events will force humanity to confront its past, its present, and its future.
The first event takes place on Mercury, on the city of Terminator, itself a miracle of engineering on an unprecedented scale. It is an unexpected death, but one that might have been foreseen. For Swan Er Hong, it is an event that will change her life. Swan was once a woman who designed worlds. Now she will be led into a plot to destroy them.
Diaspora – Greg Egan
In 2975, the orphan Yatima is grown from a randomly mutated digital mind seed in the conceptory of Konishi polis. Yatima explores the Coalition of Polises, the network of computers where most life in the solar system now resides, and joins a friend, Inoshiro, to borrow an abandoned robot body and meet a thriving community of "fleshers" in the enclave of Atlanta.
Twenty-one years later, news arrives from a lunar observatory: gravitational waves from Lac G-1, a nearby pair of neutron stars, show that the Earth is about to be bathed in a gamma-ray flash created by the stars' collision — an event that was not expected to take place for seven million years. Yatima and Inoshiro return to Atlanta to try to warn the fleshers, but meet suspicion and disbelief. Some lives are saved, but the Earth is ravaged.
In the aftermath of the disaster, the survivors resolve to discover the cause of the neutron stars' premature collision, and they launch a thousand polises into interstellar space in search of answers. This diaspora eventually reaches a planet subtly transformed to encode a message from an older group of travellers: a greater danger than Lac G-1 is imminent, and the only escape route leads beyond the visible universe.
Rendezvous with Rama – Arthur C. Clarke
One of the Modern Best Hard Sci Fi Books.
An enormous cylindrical object has entered Earth's solar system on a collision course with the sun. A team of astronauts are sent to explore the mysterious craft, which the denizens of the solar system name Rama. What they find is astonishing evidence of a civilization far more advanced than ours. They find an interior stretching over fifty kilometers; a forbidding cylindrical sea; mysterious and inaccessible buildings; and strange machine-animal hybrids, or "biots," that inhabit the ship. But what they don't find is an alien presence. So who—and where—are the Ramans?
Children of Time – Adrian Tchaikovsky
Adrian Tchaikovksy's award-winning novel Children of Time, is the epic story of humanity's battle for survival on a terraformed planet.

Who will inherit this new Earth?

The last remnants of the human race left a dying Earth, desperate to find a new home among the stars. Following in the footsteps of their ancestors, they discover the greatest treasure of the past age — a world terraformed and prepared for human life.

But all is not right in this new Eden. In the long years since the planet was abandoned, the work of its architects has borne disastrous fruit. The planet is not waiting for them, pristine and unoccupied. New masters have turned it from a refuge into mankind's worst nightmare.

Now two civilizations are on a collision course, both testing the boundaries of what they will do to survive. As the fate of humanity hangs in the balance, who are the true heirs of this new Earth? Span
Beggars in Spain – Nancy Kress
In a world where the slightest edge can mean the difference between success and failure, Leisha Camden is beautiful, extraordinarily intelligent … and one of an ever-growing number of human beings who have been genetically modified to never require sleep.
Once considered interesting anomalies, now Leisha and the other "Sleepless" are outcasts — victims of blind hatred, political repression, and shocking mob violence meant to drive them from human society … and, ultimately, from Earth itself.
But Leisha Camden has chosen to remain behind in a world that envies and fears her "gift" — a world marked for destruction in a devastating conspiracy of freedom … and revenge.
Brave New World – Aldous Huxley
One of the classic Best Hard Sci Fi Novels.
Brave New World is a dystopian social science fiction novel by English author Aldous Huxley, written in 1931. Largely set in a futuristic World State, whose citizens are environmentally engineered into an intelligence-based social hierarchy, the novel anticipates huge scientific advancements in reproductive technology, sleep-learning, psychological manipulation and classical conditioning that are combined to make a dystopian society which is challenged by only a single individual: the story's protagonist.
In 1999, the Modern Library ranked Brave New World at number 5 on its list of the 100 best English-language novels of the 20th century.
WWW: Wake – Robert J. Sawyer
Seveneves – Neal Stephenson
What would happen if the world were ending?
A catastrophic event renders the earth a ticking time bomb. In a feverish race against the inevitable, nations around the globe band together to devise an ambitious plan to ensure the survival of humanity far beyond our atmosphere, in outer space.
But the complexities and unpredictability of human nature coupled with unforeseen challenges and dangers threaten the intrepid pioneers. Only a handful of survivors remain . . .
Five thousand years later, their progeny—seven distinct races now three billion strong—embark on yet another audacious journey into the unknown. To an alien world utterly transformed by cataclysm and time: Earth.
Blindsight – Peter Watts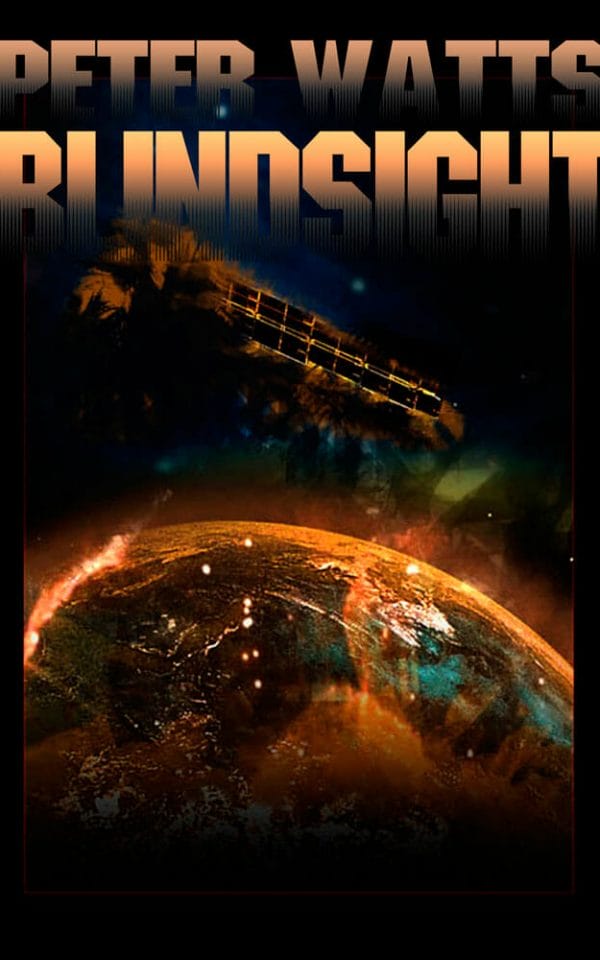 So who do you send to force introductions with unknown and unknowable alien intellect that doesn't wish to be met?

You send a linguist with multiple personalities, her brain surgically partitioned into separate, sentient processing cores. Then you send a biologist so radically interfaced with machinery that he sees x-rays and tastes ultrasound. You send a pacifist warrior in the faint hope she won't be needed. You send a monster to command them all, an extinct hominid predator once called vampire, recalled from the grave with the voodoo of recombinant genetics and the blood of sociopaths. And you send a synthesist—an informational topologist with half his mind gone—as an interface between here and there.
Contact – Carl Sagan
Pulitzer Prize-winning author and astronomer Carl Sagan imagines the greatest adventure of all—the discovery of an advanced civilization in the depths of space.

In December of 1999, a multinational team journeys out to the stars, to the most awesome encounter in human history. Who—or what—is out there? In Cosmos, Carl Sagan explained the universe. In Contact, he predicts its future—and our own.
A Fire Upon The Deep – Vernor Vinge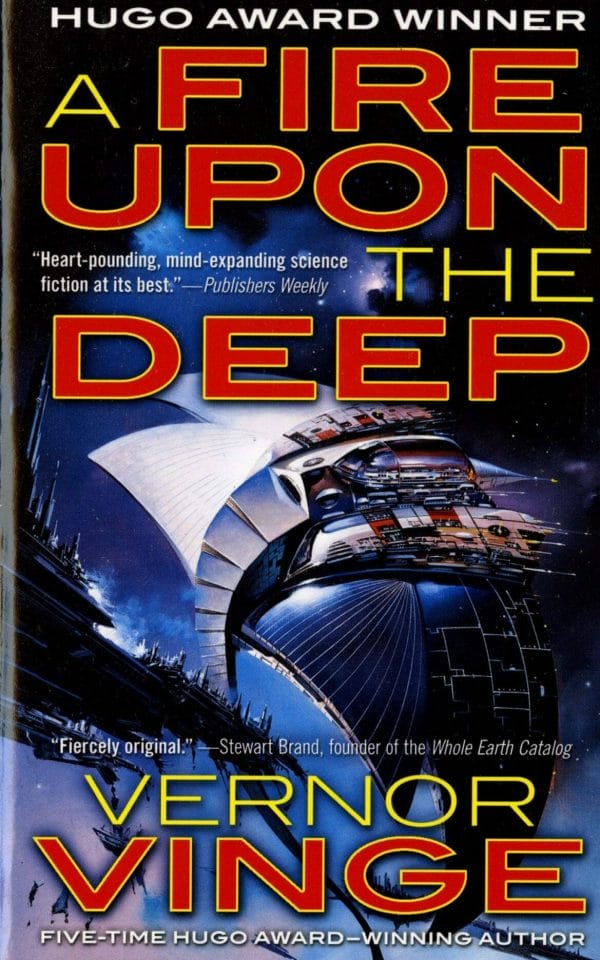 Thousands of years in the future, humanity is no longer alone in a universe where a mind's potential is determined by its location in space. From superintelligent entities in the Transcend, to the limited minds of the Unthinking Depths, where only simple creatures, and technology, can function. Nobody knows what strange force partitioned space into these "regions of thought". The warring Straumli realm use an ancient Transcendent artifact as a weapon. They unwittingly unleash an awesome power that destroys thousands of worlds and enslaves all natural and artificial intelligence.
Fleeing this galactic threat, Ravna crash lands on a strange world with a ship-hold full of cryogenically frozen children. The only survivors from a destroyed space-lab. They are taken captive by the Tines, an alien race with a harsh medieval culture, and used as pawns in a ruthless power struggle.
Dragon's Egg – Robert L. Forward
"In science fiction there is only a handful of books that stretch the mind—and this is one of them."—Arthur C. Clarke

In a moving story of sacrifice and triumph, human scientists establish a relationship with intelligent lifeforms—the cheela—living on Dragon's Egg, a neutron star where one Earth hour is equivalent to hundreds of their years. The cheela culturally evolve from savagery to the discovery of science, and for a brief time, men are their diligent teachers.
Ringworld – Larry Niven
Louis Wu, accompanied by a young woman with genes for luck, and a captured kzin – a warlike species resembling 8-foot-tall cats — are taken on a space ship run by a brilliant 2-headed alien called Nessus. Their destination is the Ringworld, an artificially constructed ring with high walls that hold 3 million times the area of Earth. Its origins are shrouded in mystery.
The adventures of Louis and his companions on the Ringworld are unforgettable . .
The Andromeda Strain – Michael Crichton
From the author of Jurassic Park comes a captivating thriller about a deadly extraterrestrial microorganism, which threatens to annihilate human life.

Five prominent biophysicists have warned the United States government that sterilization procedures for returning space probes may be inadequate to guarantee uncontaminated re-entry to the atmosphere. Two years later, a probe satellite falls to the earth and lands in a desolate region of northeastern Arizona. Nearby, in the town of Piedmont, bodies lie heaped and flung across the ground, faces locked in frozen surprise. What could cause such shock and fear? The terror has begun, and there is no telling where it will end.
Tau Zero – Poul Anderson

Aboard the spacecraft Leonora Christine, fifty crewmembers, half men and half women, have embarked on a journey of discovery like no other to a planet thirty light-years away. Since their ship is not capable of traveling faster than light, the crew will be subject to the effects of time dilation and relativity. They will age five years on board the ship before reaching their destination, but thirty-three years will pass on Earth. Experienced scientists and researchers, they have come to terms with the time conditions of their space travel.

Until . . . the Leonora Christine passes through an uncharted nebula, which damages the engine, making it impossible to decelerate the ship on the second half of their trip. To survive, the crewmembers have no choice but to bypass their destination and continue to accelerate toward the speed of light. But how will they keep hope alive and maintain order as they hurtle deeper into space with time passing more and more rapidly, and their ultimate fate unknown?
Ancillary Justice – Ann Lecki
On a remote, icy planet, the soldier known as Breq is drawing closer to completing her quest.
Once, she was the Justice of Toren — a colossal starship with an artificial intelligence linking thousands of soldiers in the service of the Radch, the empire that conquered the galaxy.
Now, an act of treachery has ripped it all away. Leaving her with one fragile human body, unanswered questions, and a burning desire for vengeance.
The Moon Is a Harsh Mistress – Robert A. Heinlein
Widely acknowledged as one of Robert A. Heinlein's best hard sci fi books, The Moon Is a Harsh Mistress rose from the golden age of science fiction to become an undisputed classic. A touchstone for the philosophy of personal responsibility and political freedom. A revolution on a lunar penal colony—aided by a self-aware supercomputer—provides the framework for a story of a diverse group of men and women grappling with the ever-changing definitions of humanity, technology, and free will.
Altered Carbon – Richard K. Morgan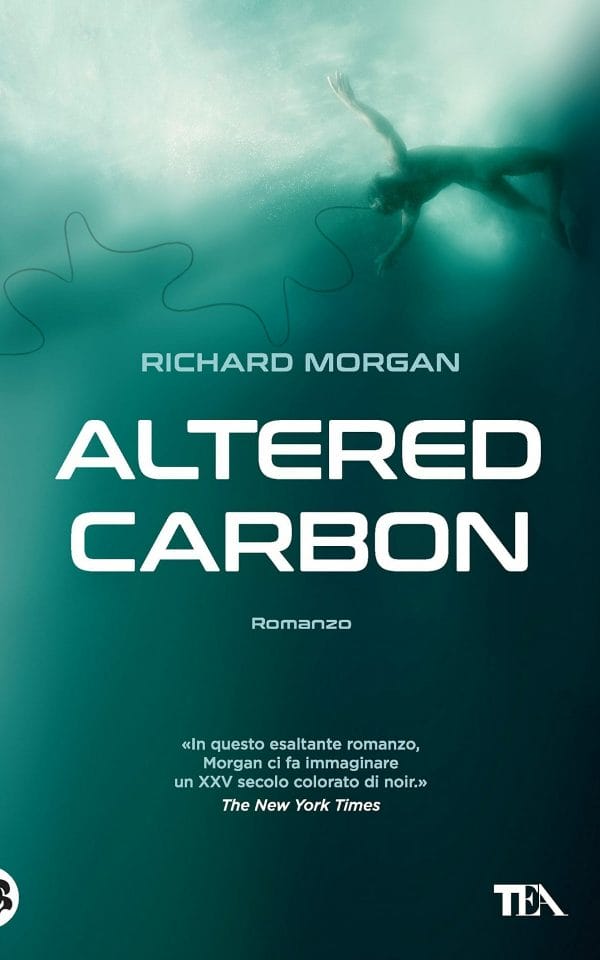 One of the Modern Best Hard Sci Fi Books
In the twenty-fifth century, humankind has spread throughout the galaxy, monitored by the watchful eye of the U.N. While divisions in race, religion, and class still exist, advances in technology have redefined life itself. Now a person's consciousness can be stored at the base of the brain and downloaded into a new body.
Ex-U.N. envoy Takeshi Kovacs has been killed before, but his last death was particularly painful. Dispatched one hundred eighty light-years from home, re-sleeved into a body in Bay City (formerly San Francisco, now with a rusted, dilapidated Golden Gate Bridge), Kovacs is thrown into the dark heart of a shady, far-reaching conspiracy that is vicious even by the standards of a society that treats "existence" as something that can be bought and sold.
Ender's Game – Orson Scott Card
In order to develop a secure defense against a hostile alien race's next attack, government agencies breed child geniuses and train them as soldiers. A brilliant young boy, Andrew "Ender" Wiggin lives with his kind but distant parents, his sadistic brother Peter, and the person he loves more than anyone else, his sister Valentine. Peter and Valentine were candidates for the soldier-training program but didn't make the cut.
Ender's skills make him a leader in school and respected in the Battle Room. Yet growing up in an artificial community of young soldiers Ender suffers greatly from isolation, rivalry from his peers, pressure from the adult teachers, and an unsettling fear of the alien invaders. His psychological battles include loneliness, fear that he is becoming like the cruel brother he remembers. But mostly fanning the flames of devotion to his beloved sister.
Foundation – Isaac Asimov
Known as one of the best hard sci fi books, this novel has been adapted for the screen by Apple TV.
For twelve thousand years the Galactic Empire has ruled supreme. Now it is dying. But only Hari Seldon, creator of the revolutionary science of psychohistory, can see into the future. To preserve knowledge and save humankind, Seldon gathers the best minds in the Empire and brings them to a bleak planet at the edge of the galaxy to serve as a beacon of hope for future generations. He calls his sanctuary the Foundation.

The Foundation novels of Isaac Asimov are among the most influential in the history of science fiction. In Foundation, Asimov has written a timely and timeless novel of the best—and worst—that lies in humanity.
Neuromancer – William Gibson
Case was the sharpest data-thief in the matrix. Until he crossed the wrong people and they crippled his nervous system, banishing him from cyberspace. Now a mysterious new employer has recruited him for a last-chance run at an unthinkably powerful artificial intelligence. With a dead man riding shotgun and Molly, a mirror-eyed street-samurai, to watch his back, Case is ready for the adventure that upped the ante on an entire genre of fiction.
Red Mars – Kim Stanley Robinson
For centuries, the barren, desolate landscape of the red planet has beckoned to humankind. Now a group of one hundred colonists begins a mission whose ultimate goal is to transform Mars into a more Earthlike planet. They will place giant satellite mirrors in Martian orbit to reflect light onto its surface. Black dust sprinkled on the polar caps will capture warmth and melt the ice. And massive tunnels drilled into the mantle will create stupendous vents of hot gases. There are some who would fight to the death to prevent Mars from ever being changed.
The Three-Body Problem – Cixin Liu
The Three-Body Problem is the first chance for English-speaking readers to experience the Hugo Award-winning phenomenon from China's most beloved science fiction author, Liu Cixin.

Set against the backdrop of China's Cultural Revolution, a secret military project sends signals into space to establish contact with aliens. An alien civilization on the brink of destruction captures the signal and plans to invade Earth. Meanwhile, on Earth, different camps start forming, planning to either welcome the superior beings and help them take over a world seen as corrupt, or to fight against the invasion. The result is a science fiction masterpiece of enormous scope and vision.
The Martian – Andy Weir
Six days ago, astronaut Mark Watney became one of the first people to walk on Mars.
Now, he's sure he'll be the first person to die there.
A dust storm nearly kills him and forces his crew to evacuate while thinking him dead. Mark finds himself stranded and completely alone with no way to even signal Earth that he's alive. Even if he could get word out, his supplies would be gone long before a rescue could arrive.
Chances are, though, he won't have time to starve to death. The damaged machinery, unforgiving environment, or plain-old "human error" are much more likely to kill him first.
The Calculating Stars – Mary Robinette Kowal
On a cold spring night in 1952, a huge meteorite fell to earth and obliterated much of the east coast of the United States, including Washington D.C. The ensuing climate cataclysm will soon render the earth inhospitable for humanity. This looming threat calls for a radically accelerated effort to colonize space, and requires a much larger share of humanity to take part in the process.
Elma York's experience as a WASP pilot and mathematician earns her a place in the attempts reach the moon. So many skilled and experienced women pilots and scientists are involved with the program. It doesn't take long before Elma begins to wonder why they can't go into space, too.
Elma's drive to become the first Lady Astronaut is so strong that even the most dearly held conventions of society may not stand a chance against her.
---
Frequently Asked Questions
What are hard sci fi books?
Hard science fiction books are a subgenre of science fiction that places a strong emphasis on scientific accuracy, technical details, and plausible extrapolation of scientific concepts. These books strive to adhere closely to known scientific principles and theories. Therefore often incorporating real scientific advancements or speculative but scientifically plausible ideas.
Which are the best Hard Sci Fi Books?
Aside from the classics, the current trending Hard Sci Fi Books include:
The Martian by Andy Weir
Neuromancer by William Gibson
Red Mars by Kim Stanley Robinson
Rendezvous with Rama by Arthur C.v Clarke
The Three-Body Problem by Liu Cixin
What are some common themes in hard science fiction?
Hard science fiction authors typically conduct extensive research to ensure their stories are grounded in scientific credibility. They explore subjects such as physics, biology, astronomy, engineering. Including other scientific disciplines to create stories that are intellectually stimulating and thought-provoking.
How is hard science fiction different from science fiction?
Science fiction as a broader genre encompasses a wider range of storytelling styles, themes, and ideas. While science fiction can also include scientific concepts, it is not bound by the same level of scientific accuracy and technical detail as hard science fiction. Science fiction may incorporate elements of fantasy, speculation, and futuristic settings without adhering strictly to scientific plausibility.
---
Enjoyed these Hard Sci Fi books? Why not try out some Young Adult Sci Fi?