What makes a character bad? Some of these baddest anime characters are usually the main antagonists that put not only our protagonists through hell, but also put the world in peril. Soulless and evil, these are people that you definitely don't want to underestimate.
In this list, we present you the internet's favorite (and least favorite) baddest anime characters! We hope we haven't missed any of your 'favorites' – if so, let us know!
Watch Anime Now: Crunchyroll | Funimation | Hulu | Netflix
Table of Contents [CLICK HERE TO OPEN]
Female Baddest Anime Characters
Mereoleona Vermillion
Black Clover
Mereoleona has a hostile attitude and a short temper. She is a loud and aggressive woman who believes actions speak louder than words. In terms of strength, she possessed tremendous physical strength, was extremely skilled in hand-to-hand combat, had tremendous raw speed, extraordinary endurance, and was skilled in sensing mana.
Esdeath
Akame ga Kill!
Esdeath is the secondary antagonist of the manga Akame Ga Kill!. She is a high-ranking general and the most dangerous warrior in the Empire. She also serves as the biggest physical threat in the series.
Junko Enoshima
Dangan Ronpa
Her favorite thing in the entire world is creating despair and misery, it's no surprise Junko is on this list. Junko organised the horrible survival game that turns normal people into monsters for the sake of amusement.
Ragyo Kiryuin
Kill La Kill
Her character design may be fun, but Ragyo definitely is one of the baddest anime characters around. She's cold-hearted and cruel. Ragyo had three children for the sole reason of trying to create a human who was infused with alien life fibers. She was happy to attack them, and even try to kill them when they disobeyed her.
Tatsumaki
One Punch Man
Tatsumaki only cares for people who are equally as powerful. It's no surprise she's the second strongest hero in the show. With telekinetic abilities, she is untouchable and can send waves of bullets or missiles raining back towards the attacker.
Male Baddest Anime Characters
Light Yagami
Death Note
After finding the Death Note, he begins righteously to kill criminals and those who deserve such punishment, such as those who commit deadly sins like murder. However, the power gets to Light and he begins to try and find Godhood, and will stop at nothing to achieve his goals.
Lil' Slugger
Paranoia Agent
The main antagonist of Paranoia Agent finds its evil roots in how real of a fear it is. A woman is attacked with a boy in the bat, who then goes on to attack various other characters in the anime.
Frieza
Dragon Ball Z
Mericlessness combined with a characteristic charm makes Friza not only deadly, but a fan favorite. During his time as ruler of the galaxy, Frieza exterminated all of the Saiyan race. His (almost) unmatched fighting skills make him even more deadly.
Makishima Shogo
Psycho-Pass
Despite having a low pyscho-pass, Makishima conducts mass murder and slips under the radar. He sees his crimes as being sound and reasonable.
Dino Golzine
Banana Fish
The guy is a mafia boss, so we can't expect much else, can we? He only wants to further his wealth and power and satisfying his carnal desires. This happens to lean towards young boys, including one of which he raised from childhood. We really don't need to say much else.

Griffith
Berserk
Part of what makes Griffith so cruel is that he didn't just attack unsuspecting victims – he betrayed his comrades. The Band of the Hawk was a group of mercenaries who considered Griffith an important friend and ally, and in fact once rescued him from captivity despite the great personal risk they incurred by doing so. Griffith's lust for power was so consuming that when he got the opportunity to become a god called Femto, he willingly sacrificed the lives of just about all of his former friends in the process.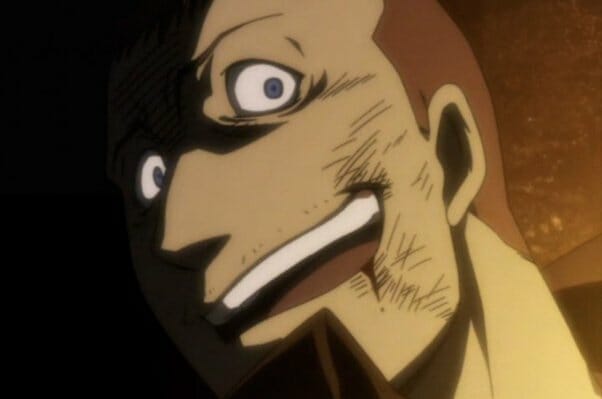 Shou Tucker
Fullmetal Alchemist: Brotherhood
Desperate to produce another speaking chimera for his research, he sacrifices his own daughter, Nina, by fusing her with the family dog. It is also revealed that he did the same thing to his wife two years prior.
Kyubey
Puella Magi Madoka Magica
He may be cute, but don't be mislead. Kyubey is an Incubator, a member of a civilization hell-bent on stopping entropy from killing the universe. Kyubey approaches girls from a young age and grants their wishes in exchange for using them to fight, not telling them that they will eventually likely die from their efforts.

Father
Fullmetal Alchemist: Brotherhood
Father wiped out nearly the entire civilization in the process of trying to acquire godlike powers. He learns nothing and tries to do the same thing again, this time willingly using his children as collateral.
Dio Brando
JoJo's Bizarre Adventure
We can't have any list without an iconic character from JoJo, can we? Enemy of Jojo's Bizarre Adventure stardust crusadors, he's evil from the get-go and blames his brother for crimes he commits. As the series continues, he only gets more and more cruel and power-hungry.

Sosuke Aizen
Bleach
Originally appearing to be a loyal member of Soul Society, it's soon revealed that he'd been plotting to overthrow it for a long time. He's willing to use murder and manipulation to further his plans.
Gendo Ikari
Neon Genesis Evangelion
Gendo Ikari, after losing his wife, would stop at nothing to reunite with her — even if it meant throwing the whole world away in the process. He knowingly threatens the world with a cataclysmic event to awaken powerful Angels, all while neglecting his own child.
The Major
Hellsing
It's kind of hard to get worse a worse person on this list of baddest anime characters than a villain who was hand-picked by Adolph Hitler for the SS, which is part of why the Major is an absolute must for this list. Aside from standard Nazi wrongdoings which in Hellsing are largely focused on Vampirism, the Major adores war.
Tamaki Tsunenaga
Deadman Wonderland
Tamaki posed as the lawyer of our protagonist, who had been wrongly framed of killing all of his classmates. He went ahead and rigged evidence against him. As the warden of the prison-theme park, he finds ways to kill inmates for his amusement.
Bondrewd
Made in Abyss
Bondrewd harbors a rather dark secret. Fascinated by the nature of the Abyss, Bondrewd has made it his life's mission to conduct research on the Abyss's netizens, employing various methods to get the data he needs. Inside his base called the Ido Front, Bondrewd conducts sadistic experiments with no signs of remorse.
Itachi Uchiha
Naruto
Despite somewhat limited screen time, Itatchi became one of the stipend figures in the Naruto franchise. From his will to his fighting technique to his epic backstory, there is something about Itachi that the fans just loved.
Overhaul
My Hero Academia
Despite his somewhat endearing appearance, Overhaul (or Kai Chisaki) is the main villain of Season 4. He is a yakuza boss who tries to forge a partnership with the League of Villans. He wants to eliminate quirks and puts no value on human life. It's up to the children of this magic school high school to put a stop to him.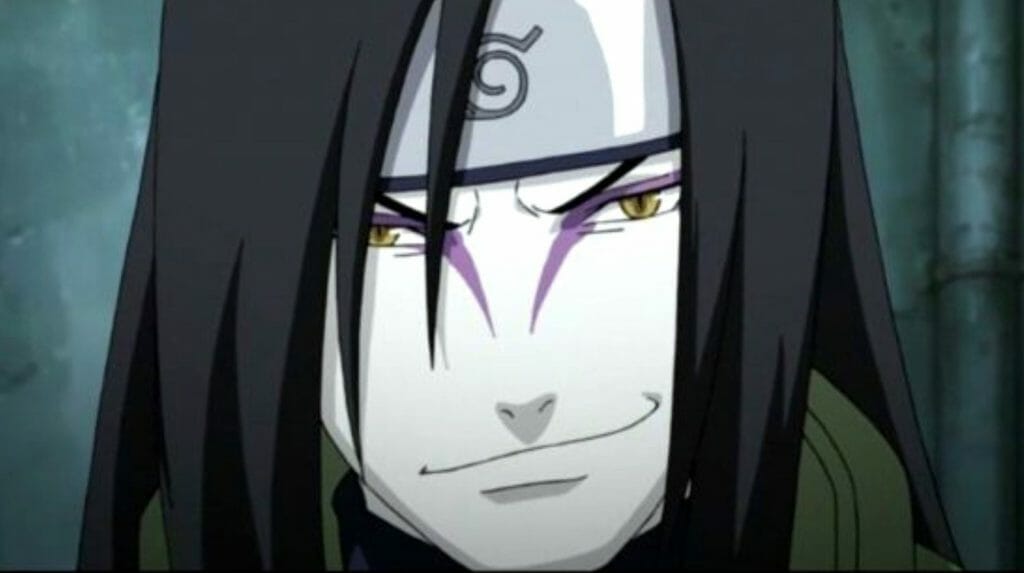 Orochimaru
Naruto
We know that Orochimaru brainwashed Sasuke into joining by his side, but what else has he done? Well, kidnapped and experimented on thousands of children for a start. He takes over their bodies so that he can be immortal. He may be one of the more classic baddest anime characters of all time.
Peter Ratri
The Promised Neverland
Current head of his clan, this plantation owner allows these places to produce meat from orphaned children to be fed to demons. His money and profit is the most important thing to him, over even the lives of children. Definitely one of the baddest anime characters on this list.
Mahito
Jujutsu Kaisen
Being literally spawned from humans' hatred of one another, it's no wonder he holds immense evil. He has the ability to manipulate souls and energy, as well as regenerate body parts. He experiments on innocent people to death.
Cain Withers
To The Abandoned Sacrad Beasts
Cain Madhouse, as he is fondly known as, was once a member of a military force. Being immortal, he has since lost touch with morality. He killed his friends in order to allow incarnates to be free in the world.
Toichiro Suzuki
Mob Psycho 100
Toichiro Suzuki founded Claw, an organisation that consists of all kids of esper. This clued him to the notion of world domination. He spent over 20 years reserving his strength for that exact purpose.
---
Frequently Asked Questions
What are some badass anime characters?
This is a difficult one! As a result, we can only try to narrow it down to our top 5!
Goku
Spike Spiegel
Mikasa Ackerman
Ryuko Matoi
Mereoleona Vermillion
What makes a character bad?
A truly evil character is rooted in selfishness and greed. They are ideologically driven in a direction of selfishness and will happily harm and even kill others to make that dream happen. They have skewed values of right and wrong, or sometimes, they simply choose to be wrong. Not to be confused with badass anime characters, who we may see along the lines of Levi Ackerman (Attack on Titan), Killua Zoldyck (Hunter x Hunter), Ayanokouji (Classroom of the Elite, in Tokyo Metropolitan Advanced Nurturing High School).

Who are the baddest anime character villains?
Our top 3 baddest anime characters are as follows:
Itatchi Uchiha
Overhaul
Ragyo Kiryuin
---