Are you ready to embark on a magical journey filled with mystery and intrigue? Well, get ready to put on your detective hat and grab your wand because we've got a list of 25 fantasy mystery books that will have you spellbound! From dragons to wizards and everything in between, these books will have you turning pages faster than a wizard can say Expecto Patronum.
So, get ready to unleash your inner Sherlock Holmes and dive into these fantastical whodunits. And don't worry, there won't be any fantasy of you solving these mysteries – they're just too enchanting to resist!
Table of Contents [CLICK HERE TO OPEN]
Fantasy Mystery Books List
Get ready to embark on an unforgettable journey through fantastical realms and intricate enigmas, because these books are so engrossing they may just transport you to another world – it's truly a "novel" experience! Check out this collection of legendary fantasy mystery books, featuring renowned authors such as Leigh Bardugo and Terry Prachett
Magic Bites (Katie Daniels Book #1) – Ilona Andrews
Kate Daniels is a down-on-her-luck mercenary who makes her living cleaning up magical problems. But when Kate's guardian is murdered, her quest for justice draws her into a power struggle between two strong factions within Atlanta's magic circles. Pressured by both sides to find the killer, Kate realizes she's way our of her league—but she wouldn't want it any other way…
Men at Arms: A Novel of Discworld – Terry Pratchett
A Young Dwarf's Dream
Corporal Carrot has been promoted! He's now in charge of the new recruits guarding Ankh-Morpork, Discworld's greatest city, from Barbarian Tribes, Miscellaneous Marauders, unlicensed Thieves, and such. It's a big job, particularly for an adopted dwarf.
But an even bigger job awaits. An ancient document has just revealed that Ankh-Morpork, ruled for decades by Disorganized crime, has a secret sovereign! And his name is Carrott…
And so begins the most awesome epic encounter of all time, or at least all afternoon, in which the fate of a city—indeed of the universe itself!—depends on a young man's courage, an ancient sword's magic, and a three-legged poodle's bladder.
Tea with the Black Dragon – R.A. MacAvoy
Martha Macnamara knows that her daughter, Elizabeth, is in trouble—she just doesn't know what kind. Mysterious phone calls from San Francisco at odd hours of the night are the only contact they've had for years. Now, Elizabeth has sent her mother a plane ticket and reserved a room for her at the city's most luxurious hotel. Yet, since Martha checked in, she still hasn't been contacted by her daughter, and is feeling lonely, confused, and a little bit worried.

But Martha meets someone else at the hotel: Mayland Long, a distinguished-looking and wealthy Chinese man who is drawn to Martha's good character and ability to pinpoint the truth of a matter. They become close quickly, and he promises to help her find Elizabeth. Before he can solve the mystery, though, Martha herself disappears—and Mayland realizes that he's in love with her.
The Strange Case of the Alchemist's Daughter (The Extraordinary Adventures of the Athena Club #1) – Theodora Goss
Mary Jekyll, alone and penniless following her parents' death, is curious about the secrets of her father's mysterious past. One clue in particular hints that Edward Hyde, her father's former friend and a murderer, may be nearby, and there is a reward for information leading to his capture…a reward that would solve all of her immediate financial woes.
But her hunt leads her to Hyde's daughter, Diana, a feral child left to be raised by nuns. With the assistance of Sherlock Holmes and Dr. Watson, Mary continues her search for the elusive Hyde, and soon befriends more women, all of whom have been created through terrifying experimentation: Beatrice Rappaccini, Catherin Moreau, and Justine Frankenstein.
When their investigations lead them to the discovery of a secret society of immoral and power-crazed scientists, the horrors of their past return. Now it is up to the monsters to finally triumph over the monstrous.
Sweet Silver Blues (Garrett, P.I. Book #1) – Glen Cook
It should have been a simple job. But for Garrett, a human detective in a world of gnomes, tracking down the woman to whom his dead pal Danny left a fortune in silver is no slight task. Even with the aid of Morley, the toughest half-elf around, Garrett isn't sure he'll make it out alive from a land where magic can be murder, the dead still talk, and vampires are always hungry for human blood in this murder mystery.
The Unbecoming of Mara Dyer (The Mara Dyer Trilogy #1) – Michelle Hodkin
Mara Dyer believes life can't get any stranger than waking up in a hospital with no memory of how she got there. It can. She believes there must be more to the accident she can't remember that killed her friends and left her strangely unharmed. There is.She doesn't believe that after everything she's been through, she can fall in love. She's wrong.
A Potion to Die For – Heather Blake
TROUBLE IS BREWING…

As the owner of Little Shop of Potions, a magic potion shop specializing in love potions, Carly Bell Hartwell finds her product more in demand than ever. A local soothsayer has predicted that a couple in town will soon divorce—and now it seems every married person in Hitching Post, Alabama, wants a little extra matrimonial magic to make sure they stay hitched.

But when Carly finds a dead man in her shop, clutching one of her potion bottles, she goes from most popular potion person to public enemy number one. In no time the murder investigation becomes a witch hunt—literally! Now Carly is going to need to brew up some serious sleuthing skills to clear her name and find the real killer—before the whole town becomes convinced her potions really are to die for!
First Grave on the Right (Charley Davidson Book #1) – Darynda Jones
First Grave on the Right is the smashing, award-winning debut novel that introduces Charley Davidson: part-time private investigator and full-time Grim Reaper.

Charley sees dead people. That's right, she sees dead people. And it's her job to convince them to "go into the light." But when these very dead people have died under less than ideal circumstances (i.e., murder), sometimes they want Charley to bring the bad guys to justice. Complicating matters are the intensely hot dreams she's been having about an Entity who has been following her all her life…and it turns out he might not be dead after all. In fact, he might be something else entirely.
Magic for Liars – Sarah Gailey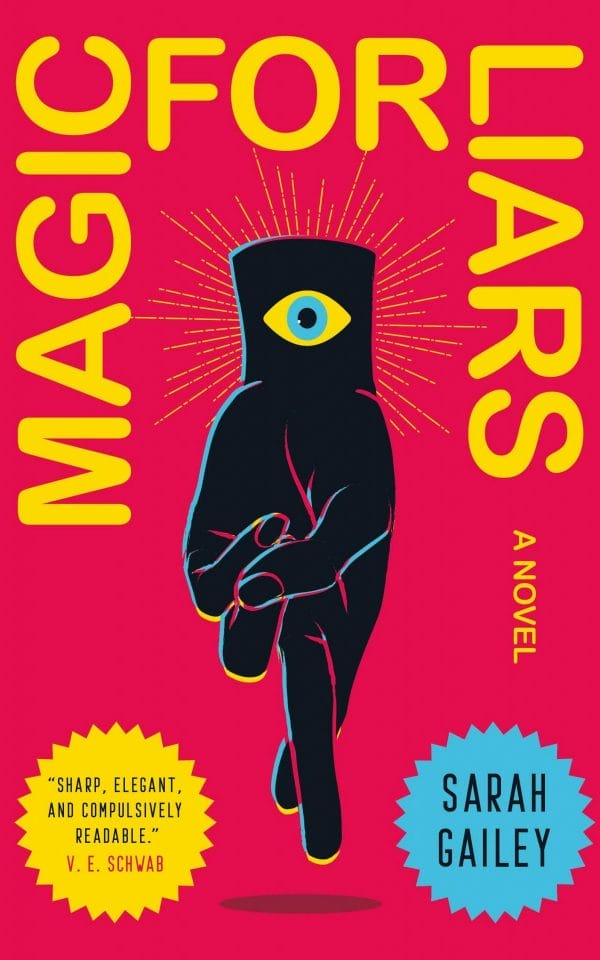 Ivy Gamble was born without magic and never wanted it.

Ivy Gamble is perfectly happy with her life – or at least, she's perfectly fine.

She doesn't in any way wish she was like Tabitha, her estranged, gifted twin sister.

Ivy Gamble is a liar.

When a gruesome murder is discovered at The Osthorne Academy of Young Mages, where her estranged twin sister teaches Theoretical Magic, reluctant detective Ivy Gamble is pulled into the world of untold power and dangerous secrets. She will have to find a murderer and reclaim her sister—without losing herself.
Ninth House (Alex Stern Book #1) – Leigh Bardugo

"The best fantasy novel I've read in years, because it's about real people….Impossible to put down." —Stephen King

Galaxy "Alex" Stern is the most unlikely member of Yale's freshman class. Raised in the Los Angeles hinterlands by a hippie mom, Alex dropped out of school early and into a world of shady drug-dealer boyfriends, dead-end jobs, and much, much worse. In fact, by age twenty, she is the sole survivor of a horrific, unsolved multiple homicide. Some might say she's thrown her life away. But at her hospital bed, Alex is offered a second chance: to attend one of the world's most prestigious universities on a full ride. What's the catch, and why her?

Still searching for answers, Alex arrives in New Haven tasked by her mysterious benefactors with monitoring the activities of Yale's secret societies. Their eight windowless "tombs" are the well-known haunts of the rich and powerful, from high-ranking politicos to Wall Street's biggest players. But their occult activities are more sinister and more extraordinary than any paranoid imagination might conceive. They tamper with forbidden magic. They raise the dead. And, sometimes, they prey on the living.
The Eyre Affair – Jasper Fforde

Fans of Douglas Adams and P. G. Wodehouse will love visiting Jasper Fforde's Great Britain, circa 1985, when time travel is routine, cloning is a reality (dodos are the resurrected pet of choice), and literature is taken very, very seriously: it's a bibliophile's dream.
England is a virtual police state where an aunt can get lost (literally) in a Wordsworth poem and forging Byronic verse is a punishable offense. All this is business as usual for Thursday Next, renowned Special Operative in literary detection. But when someone begins kidnapping characters from works of literature and plucks Jane Eyre from the pages of Brontë's novel, Thursday is faced with the challenge of her career.
Dead Until Dark (Sookie Stackhouse Book #1) – Charlaine Harris
Sookie Stackhouse is just a small-time cocktail waitress in small-town Bon Temps, Louisiana. She's quiet, doesn't get out much, and tends to mind her own business—except when it comes to her "disability." Sookie can read minds. And that doesn't make her too dateable. Then along comes Bill Compton. He's tall, dark, handsome—and Sookie can't hear a word he's thinking. He's exactly the type of guy she's been waiting for all her life…
But Bill has a disability of his own: he's a vampire with a bad reputation. And when a string of murders hits Bon Temps—along with a gang of truly nasty bloodsuckers looking for Bill—Sookie starts to wonder if having a vampire for a boyfriend is such a bright idea.
Storm Front (The Dresden Files Book #1) – Jim Butcher
As a professional wizard, Harry Dresden knows firsthand that the "everyday" world is actually full of strange and magical things—and most of them don't play well with humans. And those that do enjoy playing with humans far too much. He also knows he's the best at what he does. Technically, he's the only at what he does. But even though Harry is the only game in town, business—to put it mildly—stinks.

So when the Chicago P.D. bring him in to consult on a double homicide committed with black magic, Harry's seeing dollar signs. But where there's black magic, there's a black mage behind it. And now that mage knows Harry's name…
Jackaby – William Ritter
The first book in the New York Times bestselling paranormal mystery series pits R.F. Jackaby, investigator of the unexplainable, and his new assistant, Abigail Rook, against a supernatural serial killer.

Newly arrived in New Fiddleham, New England, 1892, and in need of a job, Abigail Rook meets R. F. Jackaby, an investigator of the unexplained with a keen eye for the extraordinary–including the ability to see supernatural beings. Abigail has a gift for noticing ordinary but important details, which makes her perfect for the position of Jackaby's assistant. On her first day, Abigail finds herself in the midst of a thrilling case: A serial killer is on the loose. The police are convinced it's an ordinary villain, but Jackaby is certain the foul deeds are the work of the kind of creature whose very existence the local authorities–with the exception of a handsome young detective named Charlie Cane–seem adamant to deny.
Dead Witch Walking (The Hollows Book #1)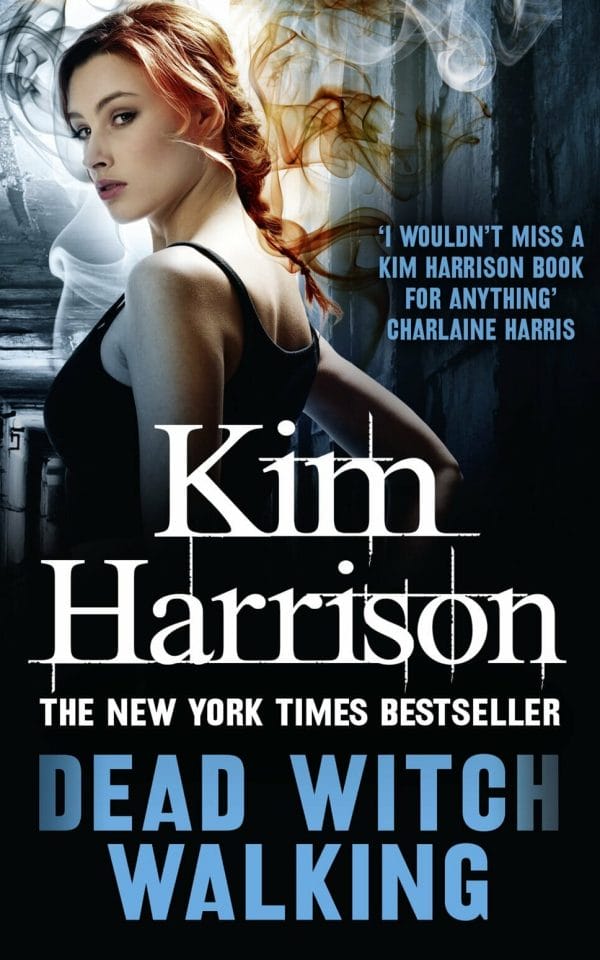 The first book in #1 New York Times bestselling author Kim Harrison's Hollows series!
All the creatures of the night gather in "the Hollows" of Cincinnati, to hide, to prowl, to party . . . and to feed.
Vampires rule the darkness in a predator-eat-predator world rife with dangers beyond imagining—and it's Rachel Morgan's job to keep that world civilized.
A bounty hunter and a witch with serious sex appeal and an attitude, she'll bring 'em back alive, dead . . . or undead.
The Affair of the Mysterious Letter – Alexis Hall
Upon returning to the city of Khelathra-Ven after five years fighting a war in another universe, Captain John Wyndham finds himself looking for somewhere to live, and expediency forces him to take lodgings at 221b Martyrs Walk. His new housemate is Ms. Shaharazad Haas, a consulting sorceress of mercurial temperament and dark reputation.
When Ms. Haas is enlisted to solve a case of blackmail against one of her former lovers, Miss Eirene Viola, Captain Wyndham is drawn into a mystery that leads him from the salons of the literary set to the drowned back-alleys of Ven and even to a prison cell in lost Carcosa. Along the way he is beset by criminals, menaced by pirates, molested by vampires, almost devoured by mad gods, and called upon to punch a shark.
But the further the companions go in pursuit of the elusive blackmailer, the more impossible the case appears. Then again, in Khelathra-Ven reality is flexible, and the impossible is Ms. Haas' stock-in-trade.
Something from the Nightside (Nightside Series Book #1) – Simon R. Green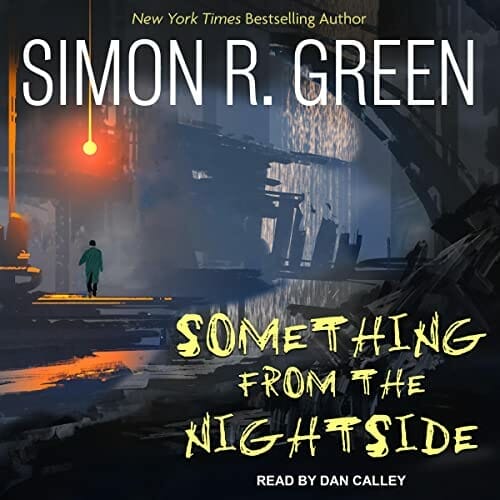 Taylor is the name, John Taylor. My card says I'm a detective, but what I really am is an expert on finding lost things. It's part of the gift I was born with as a child of the Nightside.

I left there a long time ago, with my skin and sanity barely intact. Now I make my living in the sunlit streets of London. But business has been slow lately, so when Joanna Barrett showed up at my door, reeking of wealth, asking me to find her runaway teenage daughter, I didn't say no.

Then I found out exactly where the girl had gone.

The Nightside. That square mile of Hell in the middle of the city, where it's always three A.M. Where you can walk beside myths and drink with monsters. Where nothing is what it seems and everything is possible.

I swore I'd never return. But there's a kid in danger and a woman depending on me. So I have no choice—I'm going home.
The City & The City – China Mieville
NAMED ONE OF THE BEST BOOKS OF THE YEAR BY THE LOS ANGELES TIMES, THE SEATTLE TIMES, AND PUBLISHERS WEEKLY.

When a murdered woman is found in the city of Beszel, somewhere at the edge of Europe, it looks to be a routine case for Inspector Tyador Borlú of the Extreme Crime Squad. To investigate, Borlú must travel from the decaying Beszel to its equal, rival, and intimate neighbor, the vibrant city of Ul Qoma. But this is a border crossing like no other, a journey as psychic as it is physical, a seeing of the unseen. With Ul Qoman detective Qussim Dhatt, Borlú is enmeshed in a sordid underworld of nationalists intent on destroying their neighboring city, and unificationists who dream of dissolving the two into one. As the detectives uncover the dead woman's secrets, they begin to suspect a truth that could cost them more than their lives. What stands against them are murderous powers in Beszel and in Ul Qoma: and, most terrifying of all, that which lies between these two cities.
The Imaginary Corpse – Tyler Hayes
A dinosaur detective in the land of unwanted ideas battles trauma, anxiety, and the first serial killer of imaginary friends.

Most ideas fade away when we're done with them. Some we love enough to become Real. But what about the ones we love, and walk away from?
Tippy the triceratops was once a little girl's imaginary friend, a dinosaur detective who could help her make sense of the world. But when her father died, Tippy fell into the Stillreal, the underbelly of the Imagination, where discarded ideas go when they're too Real to disappear. Now, he passes time doing detective work for other unwanted ideas – until Tippy runs into The Man in the Coat, a nightmare monster who can do the impossible: kill an idea permanently. Now Tippy must overcome his own trauma and solve the case, before there's nothing left but imaginary corpses.
Blood Price (Blood Series Book #1) – Tanya Huff

Vicki Nelson, formerly of Toronto's homicide unit and now a private detective, witnesses the first of many vicious attacks that are now plaguing the city of Toronto. As death follows unspeakable death, Vicki is forced to renew her tempestuous relationship with her former partner, Mike Celluci, to stop these forces of dark magic—along with another, unexpected ally…
Henry Fitzroy, the illegitimate son of King Henry VIII, has learned over the course of his long life how to blend with humans, how to deny the call for blood in his veins. Without him, Vicki and Mike would not survive the ancient force of chaos that has been unleashed upon the world—but in doing so, his identity may be exposed, and his life forfeit.
Rosemary and Rue – Seanan McGuire
The world of Faerie never disappeared; it merely went into hiding, continuing to exist parallel to our own. Secrecy is the key to Faerie's survival—but no secret can be kept forever, and when the fae and mortal worlds collide, changelings are born.
Outsiders from birth, these half-human, half-fae children spend their lives fighting for the respect of their immortal relations. Or, in the case of October "Toby" Daye, rejecting it completely. After getting burned by both sides of her heritage, Toby has denied the fae world, retreating into a "normal" life. Unfortunately for her, Faerie has other ideas…
The murder of Countess Evening Winterrose, one of the secret regents of the San Francisco Bay Area, pulls Toby back into the fae world. Unable to resist Evening's dying curse, Toby must resume her former position as knight errant to the Duke of Shadowed Hills and begin renewing old alliances that may prove her only hope of solving the mystery…before the curse catches up with her.
Soulless (Parasol Protectorate Series Book #1) – Gail Carriger
Alexia Tarabotti is laboring under a great many social tribulations. First, she has no soul. Second, she's a spinster whose father is both Italian and dead. Third, she was rudely attacked by a vampire, breaking all standards of social etiquette.
Where to go from there? From bad to worse apparently, for Alexia accidentally kills the vampire — and then the appalling Lord Maccon (loud, messy, gorgeous, and werewolf) is sent by Queen Victoria to investigate.
With unexpected vampires appearing and expected vampires disappearing, everyone seems to believe Alexia responsible. Can she figure out what is actually happening to London's high society? Will her soulless ability to negate supernatural powers prove useful or just plain embarrassing? Finally, who is the real enemy, and do they have treacle tart?
The Hollow Chocolate Bunnies of the Apocalypse – Robert Rankin
Once upon a time Jack set out to find his fortune in the big city. But the big city is Toy City, formerly known as Toy Town, and it has grown considerably since the good old days and isn't all that jolly any more. And there is a serial killer loose on the streets. The old, rich nursery rhyme characters are being slaughtered one by one and the Toy City police are getting nowhere in their investigations. Meanwhile, Private Eye Bill Winkie has gone missing, leaving behind his sidekick Eddie Bear to take care of things.
Eddie may be a battered teddy with an identity crisis, but someone's got to stop the killer. When he teams up with Jack, the two are ready for the challenge. Not to mention the heavy drinking, bad behaviour, car chases, gratuitous sex and violence, toy fetishism and all-round grossness along the way. It's going to be an epic adventure!
Got Luck (Tales of the Behindbeyond Book #1) – Michael Darling
Police-officer-turned-private-investigator Goethe "Got" Luck is known for rolling with the punches and never taking anything too seriously. When he picks up a seemingly dead-end murder case, his life begins to take a crazy turn. Shot at, chased by people he has never met, and attacked by an invisible liondog, Got quickly learns that there is more to this world than meets the eye.
He discovers the Fae. The Eternals. They who dwell in the Behindbeyond. Once, they ruled over ancient realms, but over the centuries, their power dwindled. Now someone wants to restore their rule and subjugate humankind. All it will cost is thousands of human lives.
The clock is ticking. Getting the world out of this one will take a couple friends, more than a few well-placed insults, and a whole lot of Luck.
Rivers of London – Ben Aaronovitch
My name is Peter Grant and until recently I was just another probationary constable in that mighty army for justice known to all right thinking people as the Metropolitan Police and by everyone else as the filth. My only concerns in life were avoiding a transfer to the Case Progression Unit – We do paperwork so other coppers don't have to – and where to get a hot coffee while on late shift. Then one night, in pursuance of a murder inquiry, I tried to take a witness statement from a man who was dead, but disturbingly voluble and that brought me to the attention Chief Inspector Nightingale, the last wizard in Britain.
And that, as they say, is where the story really starts.
Now I'm in plain clothes and the first apprentice wizard in fifty years, and my world has become somewhat more complicated. Now I'm dealing with nests of vampires in Purley, negotiating a truce between the warring god and goddess of the River Thames and digging up graves in Covent Garden – and that's just the routine stuff.
Because there's something festering at the heart of the city I love, a malicious, vengeful spirit that takes ordinary Londoners and twists them into grotesque mannequins to act out its drama of violence and despair.
The spirit of riot and rebellion has awakened in the city, and it's fallen to me to bring order out of chaos – or die trying. Which, I don't mind telling you, would involve a hell of a lot of paperwork.
---
Frequently Asked Questions about Fantasy Mystery books
What are some good Fantasy Mystery books?
If we look purely at what's really popular right now? We'd be inclined to say the award-winning Ninth House by Leigh Bardugo! If you're a fan of The Secret History by Donna Tartt, then this book should be right up your alley!
Are Fantasy Mystery books a genre?
Fantasy Mystery books are a brilliant lovechild of the fantasy and mystery genres, perfect for the ultimate level of escapism!
What is the most sold fantasy book in the world?
Accio Harry Potter Series! It's so surprise that the Harry Potter series is the bestselling fantasy franchise of all time.
What is dark fantasy?
Dark fantasy is a subgenre of fantasy, much like fantasy mystery books, which incorporated disturbing and frightening themes of fantasy.
---
We hope you found something that satisfied your lust for Fantasy Mystery books! If not, let us know what you'd add to this list!
Why not try some Sci-Fi Thriller Books!